Who Are Rick James' Kids? A Look into the Dead Singer's Family
Rick James has four children continuing his legacy.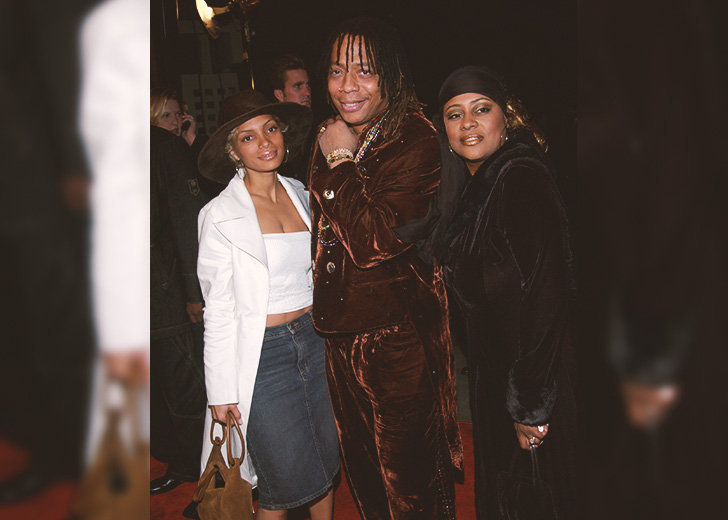 80's funk icon Rick James was a singer-songwriter, multi-instrumentalist, and record producer who left his mark in the R&B genre. He is still remembered for his iconic songs such as 'Mary Jane,' 'Fire and Desire,' and 'Super Freak.
And though it's been over 20 years since his unfortunate passing on 6 August 2004 at the age of 54, his legacy is continued by millions of people who adore him all around the globe and his children. 
If you didn't know, the Buffalo native died of cardiac and pulmonary failure. His autopsy report was also out. It found up to nine drugs including cocaine, bupropion, alprazolam, and methamphetamine, but noted that these drugs weren't present in his body at levels that could harm a life. 
Here's a look at the legendary musician's kids and personal life. Read the article in full to know about his ex-wives and ex-girlfriends, children, and net worth.
Was Rick James Married?
Rick James married twice in his life and had four children. His first marriage was with Kelly Misner in 1974.
But they divorced amicably after five years as they grew incompatible in their marriage. 
Post-divorce, Misner spoke to Citizen Freak and revealed that they had spent a lot of time apart in their marriage.
Still, she praised him for his charm and personality. 
She said, "Rick had an uncanny knack for endearing himself to people. He was quite a charming guy and for all his faults, he was one of the most unique individuals I've ever met."
Later, James dated actress and costume designer Tanya Hijazi, whom he met in 1989. The former pair tied the knot in 1996 and separated in 2002 after six years of marriage.
Who are the Mothers of Rick James' kids?
Altogether, James has four children, two of whom he had with his first know girlfriend, singer and songwriter Syville Morgan — daughter Tyenza and son Rick James Jr.
After his split with Morgan, he dated actress Linda Blair from 1982 to 1984.
The two met up after he read an interview where she called him sexy, and he reached out to her. Unfortunately, after they got together, she became pregnant but got an abortion. It was a decision that hurt James, and he wrote about it in his memoir.
I loved Linda and it hurt me that she would choose to abort our child without even wanting to talk to me about it first. I still look back on her choice with sadness and wonder about our baby, and how that child might have changed my life.
Later, James and his second wife Tanya Hijazi welcomed their one and only child together, son Tazman in 1993. Tazman was his youngest son.
The legendary musician also has another son named Trey Hardesty James, but it's unclear who his mother is.
In addition, Rick also dated singer Teena Marie with whom he began collaborating in 1979. 
Girlfriend Teena Marie helped Raise Rick James' Son Rick James Jr.
Though it's not clear when James and Teena Marie dated, their friendship and frequent collaborations spoke of their closeness.
The two were engaged for two weeks, and their professional partnership lasted into 2004 when she released her album La Dona, which included her and James's duet, 'I Got You.'
However, Marie and James's relationship was much deeper than that, and she even raised his son Rick James Jr. She recounted the story of how she ended up looking after Rick Jr.
Rick was a funny cat, he couldn't find his kids. Cocaine is a helluva drug... So his sister and I, we went looking for Ty and lil' Rick… Rick looked at me and penny and said, 'I can't take both of em!... Listen I can't take both of them T, you gotta take one… I'll take the girl. And I was like, 'I'll take the boy.'
Tyenza Took Over Rick James' Estate After His Death
Among the four of James' children, his oldest daughter, Tyenza, serves as his estate president. Like her father, she also dabbled in music despite her father wanting her to stay away from it.
On top of looking after her father's estate, Tyenza is also the CEO of Stone City Brand.
Tyenza also has two daughters of her own — Charisma and Jasmine. Among the two, Charisma is already the mother of two kids named Harmony and Zy'aire.
What was Rick James' Net Worth?
According to Celebritynetworth, Rick James' net worth at the time of his death was $250,000 as reported in the court reports "released soon after his death."
But the amount was only the tip of the iceberg and probably didn't include the future value of his music and other artistic ventures, now looked after by his daughter Tyebza "Ty" James as the President of Rick James Estate.
In 2015, the estate settled a years-long lawsuit dispute with Universal for $11.5 million over the revenue from his music sales.
Back in 2008, it also got an unknown amount by settling a lawsuit against California-based Brooklyn Music Publishing Group Inc., which the estate claimed was making money from Rick's music without permission.