A Look into Richard E. Grant's Married Life with His Late Wife Joan Washington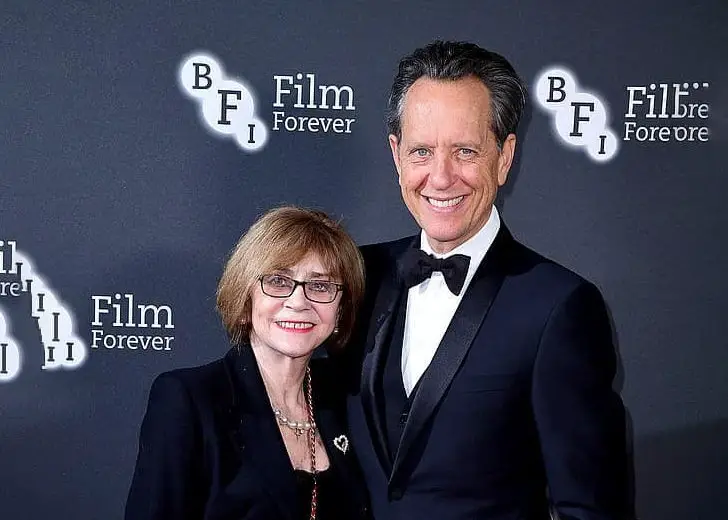 Long married lives in the Hollywood industry are a sight to behold. Only a few celebrities have been married for decades, and Richard E. Grant and his wife were one of them. 
Grant and Joan Washington were together since the 1980s and were married for three decades. The actor was beside his partner until her last breath since Washington succumbed to cancer in 2021. 
Regardless, their love story is the one for the books.  
Richard E. Grant and Joan Washington's Love Story
Grant met the love of her life when she was married to someone else and had a son named Tom. Regardless of it all, it was love at first sight for the actor. 
He met her in 1982 at a London Studio named The Actors' Centre. Washington was a dialect coach, and she was teaching a class then. 
Years later, the actor could still remember the day he met his wife. In 1994, he reminisced about Washington's appearance and what she wore with The Independent (via The Sun).

Richard E. Grant hugging his wife, Joan Washington. (Source: Instagram)
Washington had short hair and was wearing a boiler suit and Kicker shoes. For Grant, she had "the most wonderful voice and huge, sort of monkey eyes."
Similarly, she seemed pretty frenetic to him, but he thought "she was really cute and all that." Grant went to The Actors' Centre to learn to develop Irish Accent, and Washington taught him. 
Initially, Washington found him annoying. This was because she was a strict teacher, and the Loki actor got "the giggles at quite the wrong moment."
But eventually, the dialect coach was as smitten as Grant was for her. Her marriage was "extremely bad at the time," and Grant was a shoulder to cry on for her. 
Soon, she believed the actor was the one for her, and Washington left her first husband. A year after the meeting, Washington and Grant started dating, and the latter became a father figure to Washington's son. 
Because of their jobs, they had a long-distance relationship. Regardless, the duo made it work. 

Richard E. Grant celebrating being married to his wife, Joan Washington, for 34 years. (Source: Instagram)
Their Married Life 
Grant always believed that he would not get married. His parents got divorced when he was 11, and it took a toll on him. 
But meeting Washington, his perspective on marriage changed. They spent the better half of their long-distance relationship talking on the phone and writing letters to one another. 
The Game of Thrones star could not wait to tie the knot with his girlfriend. As a result, he popped the question to her when he came back for Christmas after spending six weeks in Africa. 
He went on one knee at Heathrow Airport at 6:30 am to which Washington said "yes." The duo had a beautiful wedding ceremony in 1986. 
After their marriage, Grant and his wife wanted to start a family. They already had a son from Washington's previous marriage, but they wanted to extend their family. 
Unfortunately, it was not an easy ride. Washington had three miscarriages before they welcomed their first daughter, Tiffany. 

Richard E. Grant wished his daughter, Olivia, on her 33rd birthday. (Source: Twitter)
However, she died as soon as she was born. Fortunately, the dialect coach got pregnant again, and they welcomed their "miracle baby" Olivia in 1989. 
Like her father, Olivia is also involved in the Hollywood Industry. But she works behind the camera in casting.
The father-daughter duo also has a fragrance company named JACK together. 
Joan Washington's Death 
Washington was diagnosed with stage four lung cancer on December 23, 2020. She was accepting of her disease and was okay with it with no self-pity. 
Unfortunately, she lost her battle to cancer eight months after her diagnosis in September 2021. Grant announced her death via Twitter as he uploaded a short video of the two dancing to 'Only You' by the Platters. 
He grieved that after "35 years married & 38 together," Washington died a night before the tweet. He wrote, "To be truly known and seen by you, is your immeasurable gift. Do not forget us, sweet Monkee-mine."