'Bachelor in Paradise' Star Raven Gates Expecting First Baby with Husband Adam Gottschalk
Raven Gates and husband Adam Gottschalk announced they are expecting their first child.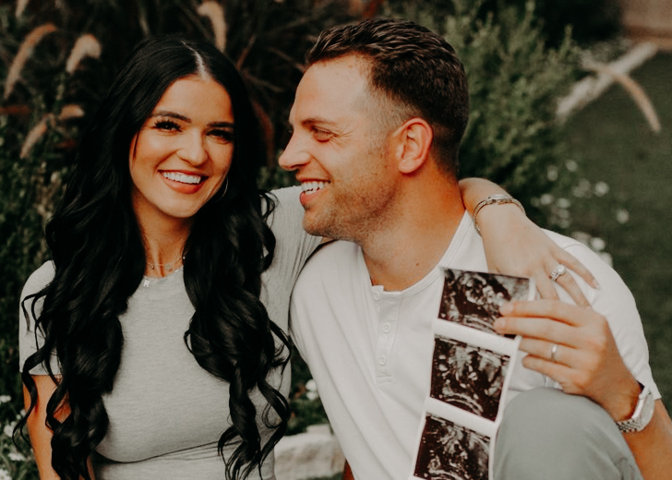 Raven Gates and Adam Gottschalk are expecting their first child. The couple who met on the 4th season of Bachelor in Paradise shared the news of her being pregnant through Instagram.
Gates uploaded several pictures showing off the result of her ultrasonography alongside her husband and their dog. The post also revealed the due date of their upcoming child with a picture that read "Honeymoon baby due Jan 26."
Gates opened up about her pregnancy in an interview with People, saying,
It's so exciting. We found out right after the wedding. I've wanted to be a mom for a long time. And I always imagined creating a family with someone I love so much. And expanding my love with Adam into a human, I can't even imagine!
Gottschalk also expressed his nervousness and excitement at becoming a father, saying he was glad he had nine months to prepare for his child.
Both Gottschalk and Gates had previously revealed they had major baby fever and couldn't wait to have children.
During an interview two months into their marriage, the two revealed they were working on a family and had discussed having two or three children.
Prepared for Children
The Bachelor in Paradise stars are well prepared to expand their family. And though they have yet to find out the sex of their child, they are already doing everything they can to ensure the pregnancy is healthy.
Just a few days ago, Gates and her husband completed a carrier screening to learn what genetic disorder their children could possibly inherit from them.
She shared the test on her Instagram and wrote she and Gottschalk were taking their pregnancy seriously since their marriage.
Met on 'Bachelor In Paradise'
Gates and Gottschalk met on the set of Bachelor in Paradise in 2017. Prior to that, Gottschalk had competed on the 13th season of The Bachelorette while Gates placed second on the 21st season of The Bachelor.
The couple was a fan favorite of many during their appearance on Bachelor in Paradise. However, they did not get engaged on the show as they were living far from each other and tested how a long-distance relationship would work for them.
After two years of dating, Gottschalk and Gates got engaged in May 2019.
Planned Wedding Four Times
Following their engagement, Gates and Gottschalk scheduled their wedding to be held in May 2020, a year after the proposal. However, the coronavirus pandemic forced them to delay their wedding multiple times.
When talking to US Weekly in August 2020, Gates expressed her frustration at having to replan her wedding.
I've replanned the wedding three times now. I told Adam by December of this year, if there is no end in sight, we're just going to elope and get married by ourselves. In our house. And if there is a light at the end of the tunnel by December, then we'll schedule this wedding for the fourth time.
Gates and Gottschalk finally tied the knot in April 2021 in Dallas, Texas after three delays and flew off to Hawaii for their honeymoon.