Inside Rajon Rondo's Personal Life — His Kids and Girlfriend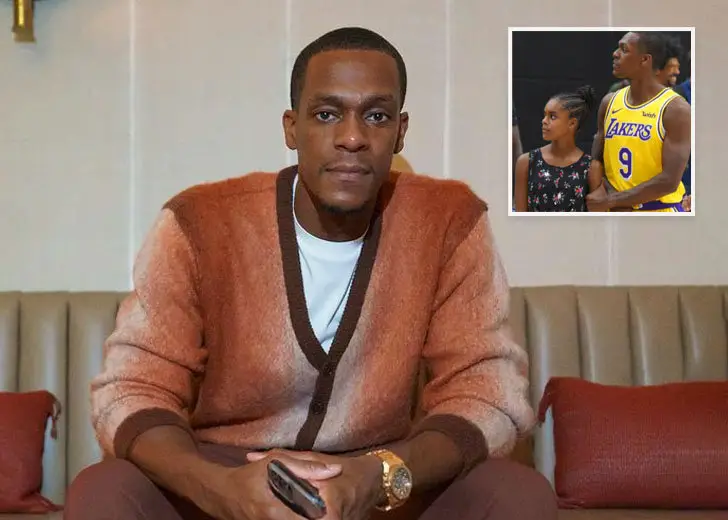 Rajon Rondo has had a successful career since joining the NBA in 2006. And his personal life is equally blissful, or at least it seems so. He has two adorable kids and a lasting relationship with his girlfriend.
Here's what you should know about them!
Rajon Rondo Has Two Kids
It is not sure if Rondo had his kids with a wife, for the information of him being married has never made it to the internet. 
But it is crystal clear that he has two lovely children — a son and a daughter. Also, it is widely reported that he welcomed his children with his former partner, Ashley Bachelor. 
His daughter Ryelle Rondo (14) was born on September 24, 2007.
According to Rondo's interview with The Undefeated magazine in September 2020, Ryelle lives with her mother.
The Los Angeles Lakers star revealed that his baby mama was doing a "heck of a job raising her and bringing to light what is going on."
He added his daughter was aware of racism and understood the tribulations despite being a teenager. 
Rondo also shared that he couldn't meet her on her 13th birthday. So he FaceTimed her and promised never to miss her birthday again. 
Besides his baby girl, Rondo has a son named Rajon Rondo Jr. A quick glimpse of his Instagram implies his son is already following in his footsteps of playing basketball. 
His Instagram post dated September 2018 saw the father-son playing the game.
On top of that, the athlete proudly takes his child to his games.
When he and his team won the NBA championship in 2020, his son was one of the people to celebrate the hard-won victory. Rondo Jr. even surprised the world by popping bottles on the court. 
Rajon Rondo Has Been Dating Latoia Fitzgerald
Rondo is in a relationship with his girlfriend Latoia Fitzgerald, a designer and creator of two clothing lines named Lionne and Dillonger. 
She has a 13-year-old son named Dillon from her past relationship. 
While it is not sure when Rondo and his girlfriend started dating, they have been seemingly together since early 2020. 
On March 4, 2020, the fashion designer uploaded a picture with her partner. The photo saw Ronda holding her close, as if trying to plant a smooch, and Fitzgerald smiled as she posed at the camera. 
In the caption, the mother-of-one thanked the basketball player for "showering her with confidence." She also mentioned that he pushed her for greater things without letting her fall. 
"Without a pause, without a doubt, in a heartbeat.. I'll keep choosing you," Fitzgerald wrote as she ended her caption with a purple heart emoji. 
Needless to say, the pair has been going strong in their relationship. They dressed as X-Men's Wolverine and Storm for 2021 Halloween.