Rachel Griffiths Married Husband Andrew Taylors after 17 Years of Knowing Each Other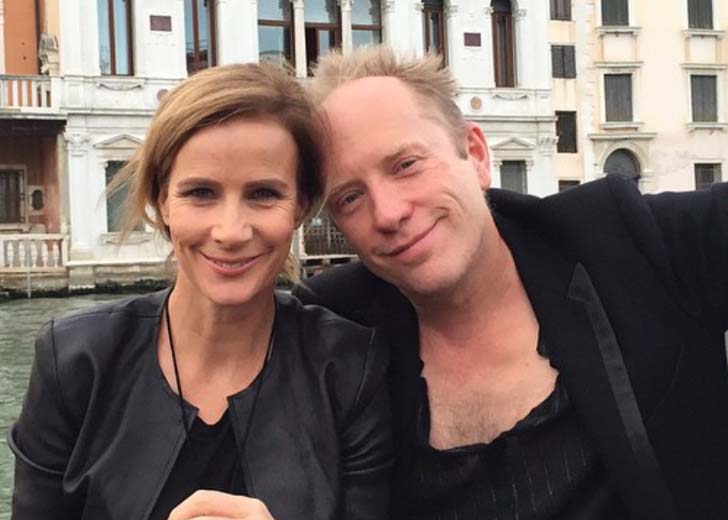 Six Feet Under star Rachel Griffiths has been married to her husband, Andrew Taylor, for almost two decades. Together, the two are parents of three children.
Over the years, Griffiths has revealed plenty about her wedding, family, and more.
Here's a look at her relationship with her artist husband and their relationship.
Rachel Griffiths and Husband's Wedding
Though Griffiths and Taylor have been married for almost 20 years, they have known each other for a far longer time. The pair first met each other when they were 17 and stayed as friends for over 15 years before finally tying the knot.
The wedding took place on December 31, 2002, in the chapel of her old school in Melbourne.
Griffiths walked down the aisle with her mother in front of over 140 guests. The ceremony was presided over by the actress' maternal uncle, Jesuit priest Father Andrew Hamilton.
"My husband and I were married in a Mass," Griffiths told The Saturday Paper. "The idea that the church and community around the church at their best are there for you at these times in your life is very real and meaningful to me."
Rachel Griffiths and Andrew Taylor's Relationship
Griffiths has talked about the relationship she shares with her spouse on multiple occasions. 
When talking about balancing her family and career with Women's Health Magazine, she shared Taylor helped by taking care of the cooking side of things.
"My husband cooks brilliantly and extremely healthily. I don't cook. I did before we got married, but he bumped me out of the kitchen," she said.

Rachel Griffiths talks about her husband and family. (Source: YouTube)
She also revealed she and Taylor had only gotten to have their honeymoon during her first pregnancy because she had to get back to work immediately after their wedding.
"I was so in love with myself the first time [pregnancy]. I thought, 'I'm a goddess, I'm Miss Fertility.' My husband and I spent 3 months in Italy fattening me up. We just ate from north to south."
They Have Three Children
Griffiths and Taylor have three children together, a son and two daughters. The pair welcomed their first child, son Banjo Patrick Taylor, in 2003.
Banjo was named after Banjo A.B. Patterson, an Australian bush poet, journalist, and author.
The actress gave birth to her second child, daughter Adelaide Rose Taylor, in 2005. She revealed her oldest daughter was named "for the city, for a character in a Disney movie and for the showgirl in 'Guys & Dolls.'"
Their family of four grew larger in 2009 when Griffiths gave birth to her second daughter, Clementine Grace Taylor.