Rachel Brosnahan Kept Marriage with Husband Jason Ralph under Wraps For Years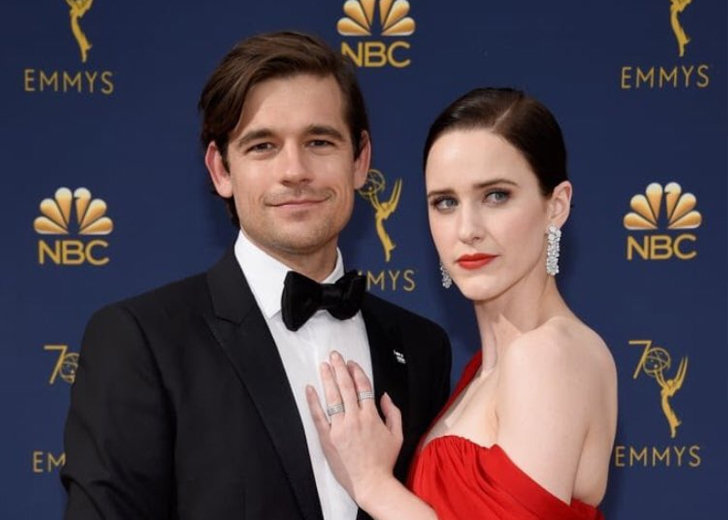 Keeping a marriage under wraps in Hollywood is no easy feat, but if anyone wants tips, they can always ask Rachel Brosnahan. 
In 2018, Brosnahan and her husband were spotted with a wedding band in public when they attended the 2018 Emmys together. At the time, no one knew they were married, and most assumed they were dating.
Later, People claimed the couple had gotten secretly married in early 2018. 
But at the 2019 SAG Awards, The Marvelous Mrs. Maisel star clarified she and her husband had been married for years. 
She explained she kept her marriage a secret because it was personal and also because of the "double standards" in the industry. 
"Jason and I also noticed early on that, while we are both the leads of successful television series, he has almost never been asked about our relationship while I have been asked on almost every red carpet I have walked in the last 2 years," said the actress, 
She added she found this double standard problematic and frustrating and instead kept the focus on their work. 
Who Is Rachel Brosnahan's Husband Jason Ralph?
It is unconfirmed when the actors tied the knot or started dating, but according to reports, the couple presumably first met in 2014 on the set of the WGN show Manhattan. 
For the unversed, Brosnahan's husband is also an actor, and his most notable role is Quentin Coldwater in the Syfy show The Magicians. 
He was the lead in the fantasy series since 2015 until his character's shocking death in the season 4 finale. 

Rachel Brosnahan and her husband during the virtual Emmy Awards 2020. (Source: Instagram)
The actor has also appeared on hit series such as Grace and Frankie, Gossip Girl, and Madam Secretary. And some fans may remember him as Jake Devereux, the political speechwriter on the Hilary Duff TV show Younger.
But before transitioning to TV, Ralph graced the Broadway stage just like his wife. 
He is famous for starring in the 2012 Peter Pan-based play Peter and the Starcatcher, while Brosnahan starred in the 2013 play The Big Knife. 
Jason Ralph Is a Big 'The Marvelous Mrs. Maisel Fan'
Although the couple is busy with their work, they constantly support each other's work.
In March 2017, the Grace and Frankie star encouraged his fans to watch his wife's show by sharing a photo of Brosnahan as Midge Maisel. 
And in the caption, he wrote, "Zero bias alert: THIS SHOW IS SO GOOD AND YOU SHOULD WATCH IT. The Marvelous Mrs. Maisel on Amazon!! #themarvelousmrsmaisel."
For Halloween in 2018, Ralph dressed up as his wife's Golden Globe-winning character. Brosnahan posted a photo of her partner wearing Midge's period wardrobe on Instagram. 
"Who wouldn't want to come home to this every night?- @rasonjalph winning Halloween," she captioned the photo.
And when the actress won the 2019 Golden Globes for Best Actress in a Musical or Comedy TV Series for the second time, she did not forget to thank her husband. "Jason, I love you. I wouldn't be here at all without you. Thank you." she said in her acceptance speech.