Does Queen Latifah Have Kids? Here Is a Breakdown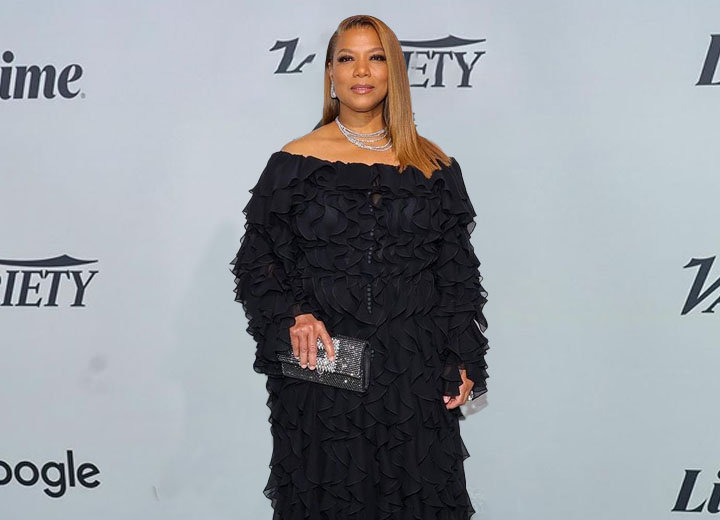 Queen Latifah, born Dana Elaine Owens, has been in the public eye for many years, dominating music charts, awards shows, and box office since her debut in the late 1980s.
But despite working in the spotlight for decades, Latifah keeps her personal life away from the limelight, leaving people to wonder, "does Queen Latifah have kids?"
Previously, on May 13, 2019, Radar Online broke the news that Latifah and her long-term partner, Eboni Nichols, had welcomed their first child. 
"Latifah has never been so full of life! Eboni and the baby have given Latifah something very special to live for," a source close to the actress revealed to the outlet.
Although the couple never confirmed the news, in June 2021, during the BET Awards, she seemingly acknowledged she had a child. Latifah was honored with the Lifetime Achievement Award, and during her acceptance speech, she seemed to refer to her son, Rebel, while thanking everyone, including her partner. 
Queen Latifah on Wanting to Be a Mother
The actress might not be willing to talk about her family, but she has expressed her desire to start one. 
In 2012, during an appearance on The View, the Girls Trip actor revealed she was considering starting a family through adoption. 
When co-host Barbara Walters asked if Latifah would ever adopt, she said, "I'm actually kind of working on that," and added, "I think I saw one of those specials, you know, those movies of the week. And it was like — I just always wanted to bring a child home."
And then, in 2014, she told Jet Magazine she had been thinking about starting a family through adoption.
Latifah shared she had wanted to adopt since she was 18 because she grew up with friends who could have used good parents. The actress credited her mother, Rita Owens, for that, saying that she was the perfect example of how to raise kids. 
Her mother gave her everything she needed to be a strong and independent woman. 
Queen Latifah Wants a Big Family
These were not the only times the actress mentioned her desire to start a family. 

Queen Latifah talks about wanting a big family. (Source: YouTube)
In October 2017, during her appearance on PeopleTV, she shared a story of how she helped mothers hold their babies while they gathered their belongings at airport security. 
She joked she was a natural with babies and always wanted a big family. 
"I think I kind of needed to grow and mature and get everything kind of taken care of with everything before I could deal with it [starting a family] yeah," said the actress. 
She added she did not have to have a baby and would be happy as long as she became a parent. Latifah just wanted to give whomever she adopted someone to call a mother and a happy home.
If her statements are anything to go by, Latifah and her partner might include more kids in their family.