Poorna Jagannathan and Husband Azad Have Built 'Simple Life' with 'Extraordinary Beauty'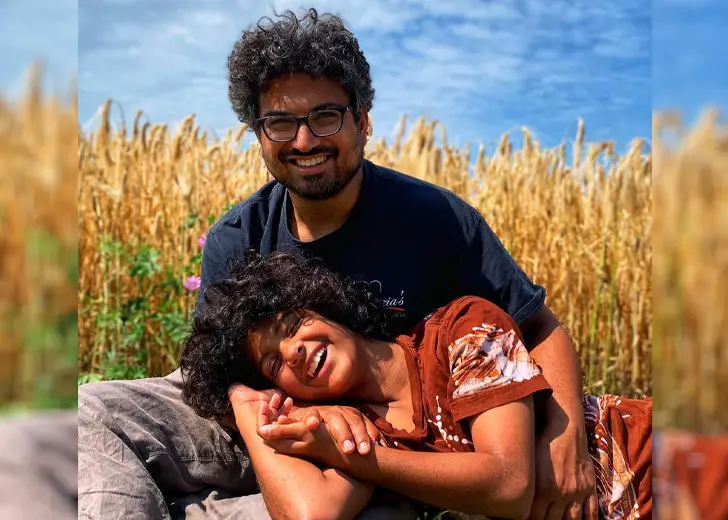 Poorna Jagannathan celebrated her husband and the beautiful life they share.
Marking 2022's Valentine's Day, the actress posted a sweet tribute to her other half on Instagram. The Never Have I Ever star shared a photo of her husband Azad Oommen with their son Anav Oommen and their pet dog.
"21 years ago, I said 'I love u' to him on our FIRST date," the actress began the caption.
She added, "I was so embarrassed that those words had spilled out of me, that I said 'I love you' to everyone around us at all times so he wouldn't think he was special."
"We've built a simple life together but it's one full of extraordinary beauty. Here's to deep love. Happy Valentine's Day everyone," she concluded the post.
This post was one of the rare occasions that the actress shared details about her personal life.
Poorna Jagannathan's Married Life with Husband Azad Oommen
Jaganathan and Oommen tied the knot on January 11, 2003.
Although The Night Of actress has been married for almost 20 years, she's managed to keep details of her married life under wraps. From her Valentine's day post, one could conclude that the actress fell in love with Oommen on her first date.
In a birthday post for her husband, she further shared that their friends and family hold an intimate party every year on her partner's birthday. "And every year, they have the same conversation: If Poorna dies, who gets Azad?" the actress wrote.
She added, "Happy birthday to the most desirable husband in the world."

Poorna Jagannathan with her husband Azad Oommen and Son Anav Oommen. (Source: Instagram)
But who is Oommen, and what does he do?
Her partner Oommen has a career away from the spotlight. However, due to his extensive involvement in leadership development and work to provide quality education in low and middle-income countries, he has become a person of renown.
He was the founding Executive Director of the Central Square Foundation (CSF), an Indian venture philanthropy fund that invests in organizations looking to improve the quality of student learning.
Currently, Oommen is the co-founder of Global School Leaders, an international non-profit organization focused on mobilizing key stakeholders to invest and participate in school leadership training.
As per the actress, besides being a humanitarian professionally, Oommen is also a loving father to their son Anav, 15.
"Our son with his sun," wrote the actress in a post dedicated to her spouse on Father's Day. "We all revolve around this man, whose light and warmth is like nothing I thought I could ever experience."
The heartwarming posts that the actress has shared show that she has a beautiful married life with her loving husband and son.