Phillip Schofield's Coming Out Story — Had Incredible Support from His Wife and Daughters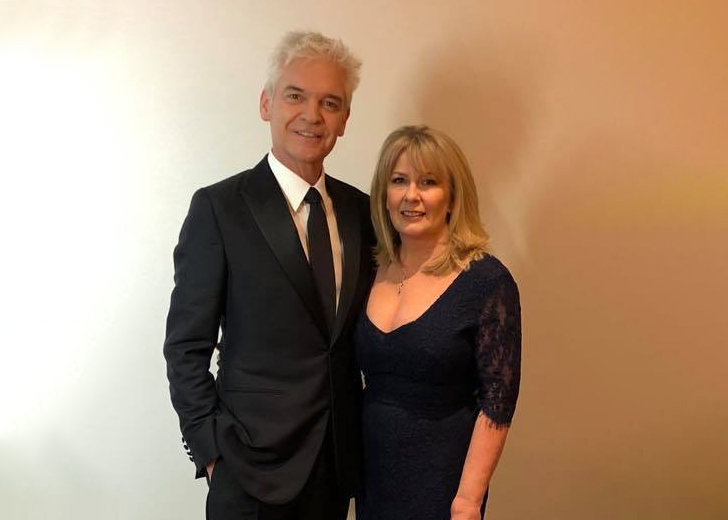 Phillip Schofield surprised quite a few people when he came out as gay back in February 2020.
It was especially baffling to most because Schofield had been married to his wife Stephanie for close to 27 years when he came out over a social media post followed by an interview on This Morning.
Despite the confusion, Schofield has said over the years, his family and his wife's family have been incredibly supportive of him. 
Still, some question, "Is Phillip Schofield still married?" Suffice to say, their inquiry is justified given the circumstances. 
The answer to that question might be just as surprising, though. 
Yes, Schofield is still married to Stephanie, and the duo, along with their two daughters, Molly and Ruby, are still very much a family unit. 
Phillip Schofield Came out as Gay
Back in February 2022, Schofield came over on Lorraine to celebrate 40 years of being on television, and towards the end of the episode, they were joined by Stephanie and their daughter Ruby. 
When questioned about what the family meant to him, he instantly and unhesitantly replied: "Everything. Absolutely everything." 
"We've obviously, clearly, had changes in our lives," he said, referring to his coming out. "But I've said [before] it's always us four, but slightly different."
He couldn't stop gushing over his wife, either. 
Steph has been the most incredible foundation of support and rock throughout my whole career and my girls, I couldn't be more proud of. We are a family and it works.
Phillip Schofield Had Incredible Support from Wife & Daughters
When he came out as gay, he went on This Morning to have a more upfront discussion on the matter. He shared that he and his wife had remained close despite no longer being together and living separately.
He confessed he was very conscious about the difficult situation he had put his family into, and he was guilty about the "hurt" he caused.
"My overriding emotion with my family is obviously going to be guilt," he professed at the time. "Because I do feel guilty that this can't be anything other than a painful process for them." 
Still, at the same time, he was proud to have done what he did. 
He also talked about how incredibly supportive his family had been throughout the entire process.
When he sat them down and told them he was gay, the daughters hugged him, hugged their mother, and consoled them both. 
"They said, 'It's okay. It's okay. This is fine. We'll be okay. We'll always be a family,'" he recalled his daughters saying. 
Is Phillip Schofield Getting Divorced?
As per reports from Hello! Schofield was seen carrying a huge bouquet of flowers for Stephanie on the occasion of their 28th wedding anniversary back in March 2021.

Phillip Schofield with his wife and daughters (Source: Instagram)
Later on in the report, the outlet cited a conversation that the TV personality had where he discussed the possibility of a divorce. 
At the time, he firmly stated that he and his wife were still married. He acknowledged the talks of divorce going around in the public sphere but also affirmed that no such discussions were going on back home.