Know Phil McGraw's Still Married? Phil McGraw Responds to Divorce Rumors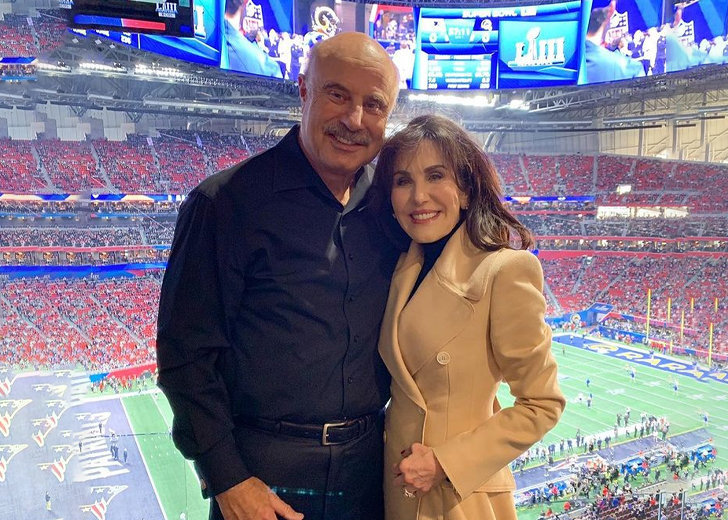 Philip McGraw, known in the television world as Dr. Phil, is best known as the host of Dr. Phil, an American talk show where Phil assists the guests sort out their conflicts in a therapy alike session in front of a set audience.
The guests of the show sometimes undergo polygraphs and paternity tests if needed. 
Through the top-rated show, the co-founder of courtroom sciences has provided straightforward advice to numerous guests from child stars, celebs to day-to-day family and couples on issues ranging from trouble with fame, depression, difficult upbringing, financial mishandling, grief, weight loss, theft, marriage counseling, dysfunctional families, and rebellious teenagers.
In addition, Phils' wife Robin McGraw also makes frequent visits to the show and shares her opinions and experiences with the guests or audience on demand. 
And yes, they are still married despite all the divorce rumors circulating online. 
The show was created by media mogul Oprah Winfrey, who he credits for fueling his career rise. 
Today, the show is one of the highest-rated talk show in the country but is awaiting its final season in 2023 after 21 seasons in total.  
Read the full article to learn about Phil McGraw's new venture, marriage, wife, ex-wife, divorce, son, age, young days, and height. 
When will Dr. Phil end?
After 21 years of remaining competitive in the talk show rating game, Phil would finally end his long daytime therapy sessions on Dr. Phil in 2023, as announced by CBS Media Ventures in February 2023, to connect with a broader audience. 
"I am compelled to engage with a broader audience because I have grave concerns for the American family, and I am determined to help restore a clarity of purpose as well as our core values," he revealed.
The media group also added that the certified clinical psychologist had signed up for a "strategic, prime-time partnership [with CBS Media Ventures], scheduled for an early 2024 launch, which will expand his reach and increase his impact on television and viewers."
Who is Phil McGraw's Wife Robin?
Dr. Phil McGraw, who stands at the height of 6 feet and 3 inches (1.91 m), has been married to his wife Robin for over 47 years. During this time, the couple has welcomed two children together, both of whom have started their own families.
Robin is the host of I've Got a Secret! podcast and a New York Times best-selling author.
She also has a beauty brand called Robin McGraw Revelation. 
Did Phil McGraw and his wife Robin Divorce in the Past?
When the rumors of Phil and his wife getting divorced popped up, he denied them immediately.
Indeed, he has been very open about their relationship and has talked about how mutual respect and love have made their marriage so successful.
And his wife, Robin, feels much more obliged to a conflictless relationship, thanks to her parents who she credits for their frictionless marriage.
To New You Magazine in 2014, she revealed her secret of a happy marriage, stating,
People cannot understand when we say we don't fight. They go, 'That's just not natural. You're lying! Couples fight.' But we don't fight and it's because we had a conversation early on and I told him that it's not natural for me to be in a house where people are screaming and yelling -- my parents didn't do it, I don't do it and I don't want to live in a house like that. He got it and has never raised his voice around me. We don't fight.
Still, Phil and his wife Robin have been facing and denying divorce rumors since the 2000s fueled by numerous websites ranging from credible outlets such as National Enquirer to low-standard, unreliable magazines.  
The magazine National Enquirer reported in 2016 that Phil had a troubled relationship with his wife and was luring her with money to stop her from writing a t"ell-all book" documenting his alleged cheating scandals, struggle with alcohol, hatred toward Oprah, and their secret divorce deal.    
The pair later filed a lawsuit against the magazine claiming that its coverage had damaged their personal and professional lives. 
The lawsuit also highlighted that the magazine had also "threatened" them to cover a story of a man who suffered an injury after Phil, then a student of Texas Tech University smashed a beer mug over his head at the Copper Caboose bar.
However, Phil noted that the bar didn't serve alcohol until 2009 and was only opened after six years after his exit from the city. 
Snopes in 2019 reported that the coverage from the National Enquirer might not "have any substance to them" given the alleged book not coming to life even after years.
Adding to that, it also noted that Enquirer stopped negative coverage about Dr. Phil after he dissolved it after a few months of filing.
Phil's wife Robin lost her Parents at Young Age
He shared that he and Robin had grown closer after her traumatic experience of losing her parents.
"She lost both her parents close together at a very young time in her life," he explained. "And she said to me one day sitting on the end of the bed, 'You know, I'm not an orphan, I've got no people.'"
"That's the day I told her, 'That's not true. Look me in the eye and let me tell you I will never leave you.'"
Phil added it was a commitment he took very seriously. And because of it, he noted the rumors were groundless.
Phil's Ex-wife Debbie on their Marriage
He and his ex-wife Debbie Huggins McCall married when he was 20 years old in 1970. They were high school sweethearts. She was a cheerleader in high school and he was a football linebacker. 
As per Hollywoodlife reporting, Mcall was an editor in the zombie movie, Demon Hunters: fear the Silence. She died in 2014.
According to her, she wasn't happy in their marriage. She accused him of infidelity. She also alleged that he was a controlling husband who limit her to home responsibilities.
In addition, she claimed that he asked her to get involved in weightlifting to increase he bust size. 
In 2002, Phil implied to Newsweek that they sat down and discussed the ending of their marriage after stating that their marriage was bound to happen. "
I was the big football player, and she was the cheerleader. This was just the next thing to do," he said. 
"We never had a crossword. We just sat down and said, 'Why did we do this?'" he clarified.   
Phil McGraw and his Wife Robin McGraw
Phil and Robin, who was his sister's friend, met for the first time at his parents' house during the process of ending his first marriage to  Debbie Higgins McCall (died 2014) in 1973.
Robin and Phil recounted the story of their first meeting with Yahoo Life. She shared that the first thing he told her when they met was, "Who are You?"
Phil explained that as he was going through the process of ending his first marriage and looking for love was the last thing on his mind.

Phil McGraw with his wife Robin McGraw (Source: Instagram)
However, both Phil and his spouse say that it was love at first sight for them. 
For their very first date, he took her on a ride on his airplane.
"She said she had never been up in an airplane," he said. "Which I took as a dare. So I thought, 'Well, she wants to get her feet off the ground, we will get her feet off the ground.'"
After roughly three years together, the Dr. Phil star tied the knot with Robin in August 1976.
They Have Two Children Together
Phil and Robin welcomed their first child together, son Jay McGraw, on September 12, 1979.
Their family of three grew larger on October 21, 1986, when Robin gave birth to their second son, Jordan McGraw, who has been married to former Beverly Hills star Morgan Steward McGraw.
Both Jay and Jordan have started a family of their own. Jay married Playboy model Erica Dahm in 2006.
The couple has since welcomed two children together — daughter Avery Elizabeth McGraw (born March 18, 2010) and son London Philip McGraw (born September 1, 2011).
As for Jordan, he is married to E! News personality Morgan Stewart. They have one child together, Row Renggli McGraw, who was born on February 16, 2021.
What is Phil McGraw's Net Worth?
McGraw's estimated net worth is $460 million, as reported by The Sun. 
According to Forbes, the famous therapist topped the list of the highest-paid hosts in the world with $95 million in total salary and other incomes from his total hosting ventures. 
How old is Phil McGraw?
Born as Phillip Calvin McGraw on 1 September 1950 (age 72) in Vinita, Oklahoma, U.S. to father Joseph J. McGraw Jr. and mother Anne Geraldine Stevens "Jerry", McGraw grew up with his three siblings: older sisters Deana and Donna and younger sister Brenda in the oilfield of North Texas—his father was an equipment supplier.
At the young age of 13, Phil started working at a local pizza chain brand called Pizza Planet and also at an A&W Root Beer stand in Oklahoma City. 
But he had been always interested in pursuing psychology. He attended high school in Kansas after moving there with his father. 
In 1968, he was awarded a football scholarship to the University of Tusla. He played there as a middle linebacker under coach Glenn Dobbs. 
His academic qualifications include a bachelor's degree in psychology from Midwestern State University (1975), a master's degree in experimental psychology (1976), and a Ph.D. degree in clinical psychology (1979) from North Texas State University, which is now known as the University of North Texas.