Pauly D's Most Personal Tattoos Honor His Friend's Demise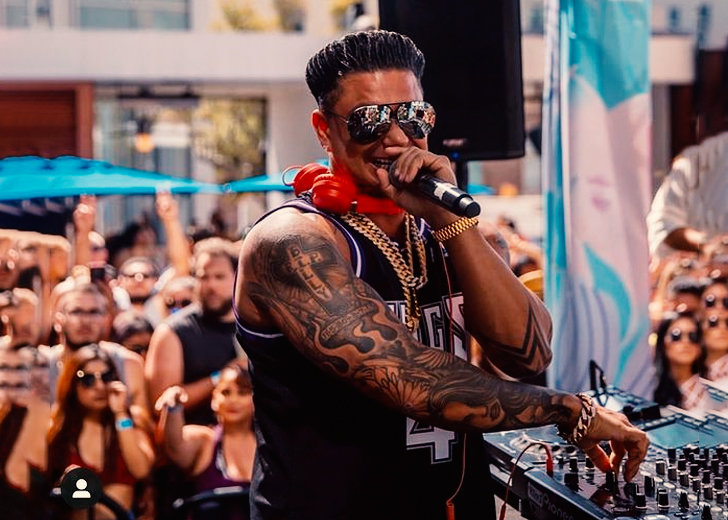 Paul D. DelVecchio Jr., popularly known as Pauly D and DJ Pauly D, is a television personality and DJ, majorly known for being a cast member of MTV's reality show Jersey Shore.
Besides his musical endeavors and television appearance, fans also recognize Pauly D for his unique tattoos inked all over his body. His elbow star tattoo even made the cut in the list of Complex's 25 worst celebrity tattoos back in 2011.
Complex reportedly described him as "a fine example of someone swayed by large scale, mostly meaningless, decorative tattoo." The tabloid also quipped, "The arm band and dragon above prove tattoo trends have wronged Pauly on more than one occasion."
Even though the magazine made fun of his tattoo, the DJ has other tattoos in his body that have significant meanings. And even if someone critiques them, he would not get bothered by the remarks.
Pauly D's Favorite Tattoo Is Dedicated to His Late Best Friend
In an interview with The Baltimore Sun in January 2011, Pauly D revealed that his favorite tattoo was inked in his right bicep, where he has a cross with the words "In Loving Memory" above it and "R.I.P. Billy." 
He further stated that the tattoo was dedicated to his late best friend William "Billy" Iannotti, an owner of Krazy Karz.
According to Iannotti's obituary, he passed away due to a motorcycle accident at the age of 24. He reportedly was riding in a "motorcycle run for charity" when he got into a fatal crash.
"My favorite one is my rest in peace tattoo for my buddy Billy, who's my best friend who passed away on a motorcycle," Pauly D said during the conversation. "It's the only tattoo that I have that has real meaning."
A 2010 report from TMZ also reported that he sat down for 12 hours to get multiple other tattoos on his body to pay homage to his lost friend. He reportedly went to the tattoo artist Tony Estrella at Indelible Ink Tattoo Studio in Fall River, Massachusetts.
During the chat with The Baltimore Sun, the 41-year-old artist had revealed that he had eight tattoos altogether at that time.
Pauly D's Forearm Tattoo Is Tribute to Supermodel Adriana Lima
Years after getting a tattoo for his best friend, Pauly D went on to have another big tattoo — a tribute tattoo. This time, he inked his entire right forearm.
In December 2014, the reality TV star took to his Instagram to reveal that he permanently paid tribute to one of the most famous Angels in the world. He proudly showed off a massive black and gray portrait of a mysterious beauty with long, flowing hair covering her left eye in the snap.
His caption later revealed that the ink that covered the space from his wrist to his elbow wasn't just of any beautiful woman. It turns out the tattoo was a portrait of supermodel Adriana Lima.
"In Honor Of #VSFashionShow #VSFS2014," he wrote in the caption, tagging Lima.
According to Daily News, when Lima found out about his tattoo, she felt honored and so impressed that she started following Pauly D on Instagram. She also praised the tattoo, writing, "Thank you so much, what a[n] honor."