Olivia Colman Stalked Her Husband Ed Sinclair before They Got Together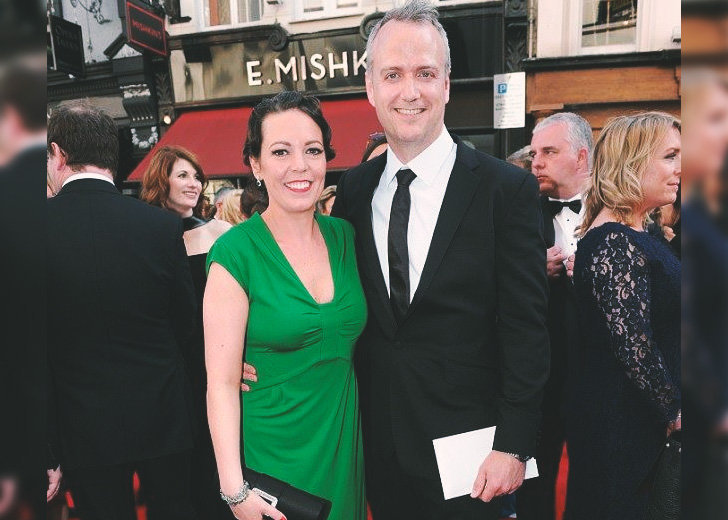 English actress Olivia Colman recently talked about how she met her husband for the first time. Speaking to National Theatre, the actress said she met Ed Sinclair, her current husband while performing in Floodlights' production Table Manners.
Per Colman, Sinclair was the boy she "fancied" to be in a relationship with and joked how that worked out for her as Sinclair is "now my husband."
Olivia Colman Admitted Stalking Her Husband Ed Sinclair
During the chat, Colman confessed that she stalked Sinclair before the start of their relationship, something she hasn't condoned thus far. Additionally, the actress did not shy away from giving details from her stalking period.
According to Colman, she stalked Sinclair for around six weeks and, during that time, memorized his timetable, which included his dressing time which was generally about three hours.
Furthermore, Colman found out Sinclair's taste in music and learned the songs he liked.
When noted by the interviewer Rufus Norris of her commitment for her now-husband, she remarked by saying, 
[It was] more commitment than I've ever shown in any acting job.
Colman was then asked if her husband was aware of this "endeavour" of her. In her response, the actress said that Sinclair wasn't aware of all this and remarked him to be "very slow for a bright boy."
Actress Colman eventually reached out to one of Sinclair's friends and asked if it was possible to tell Sinclair that "I love him." Sinclair's friend let him know about Colman's interest in him, which led to their love life. 
Before their marriage, they went to the same drama school to study after Colman asked her then husband-to-be to "run off with me." 
Before moving with Colman to Bristol to pursue a career in drama and acting, Sinclair was studying law, something he wasn't interested in continuing as per his wife.
The couple made it to Bristol and enrolled in Bristol Old Vic to further their education and career in drama and literary arts.
The couple graduated from Old Vic, which is the oldest continuously working theatre in the English-speaking world. 
A Look into Her Private Life Including Her Children
The Norwich-born actress is a mother of three children and currently lives in South London with her family. She married her husband Sinclair in 2001 after dating him for a long time.
Her firstborn son Fin Sinclair was born in 2005, while her younger son Hall Sinclair was born in 2007.
Colman has a third child with her husband, a daughter born in 2015. However, details about her daughter, including her name, remain unknown in public. 
Colman became a mother for the third time while filming the 2016's drama series The Night Manager.
Colman and her husband are secretive about their children and have kept them out of the spotlight.
Speaking to Vogue in 2015, the actress said she finds it "weird" when people that she didn't know stare at her in public.
Colman believes that her private life with her husband and kids provides her "a perfect refuge" from the outside world.