Who Was Noella Bergener's Father? About His Life, Death, and Career as a Weatherman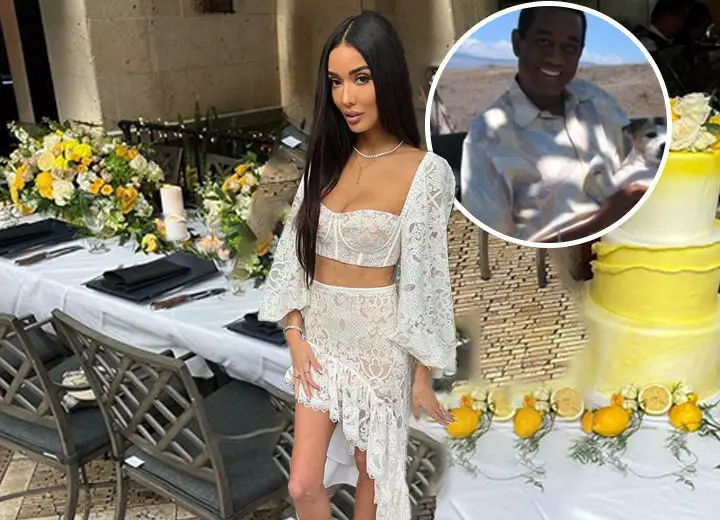 Noella Bergener became a part of The Real Housewives of Orange County in 2019. Then, in July 2022, she announced she was leaving the show after two seasons.
Her decision to move on came after an incredibly difficult 2021. She had a turbulent personal life with her boyfriend, which ended in a breakup, and she also endured the loss of her father, Christopher Nance.
Bergener's father's death hit the reality TV star hard. But he wasn't only her loss — an entire generation who turned their TVs on for weather reports lost Nance.
Noella Bergener's Father Christopher Nance — Life, Death, and Career
Christopher Nance was a well-known name in weather reporting in the US. The legendary weatherman, who went by the nickname "Weather Dude," did weather reporting on various TV stations over the years.
Nance was born in 1955 near Pacific Grove, California, and had a brother who died in the early 2000s. He attended Pacific Grove High School in the early '70s before pursuing a career in the news.
He took on a few news jobs in Monterey with KION-TV and San Francisco before landing his biggest and longest-lasting job as a weathercaster at KNBC in Los Angeles.
Nance joined KNBC in 1985, initially appearing on its weekend newscasts. Gradually, his roles increased as did his fame — he got screen time in the mornings and on the Today show. KNBC was also where he would get his nickname, "Weather Dude."
Other than his day job, Nance was also involved in KNBC's community outreach programs. Further, he also wrote various children's books and established and ran a non-profit foundation that raised awareness and funds against sickle cell anemia, a disease he was diagnosed with early in his life.
He took his personal and professional lives together and dated a few interns at KNBC. However, that all ended when he met Bergener's mother.

A young Noella Bergener with her father, Christopher Nance. (Photo: Instagram)
In the last years of his life, he was reportedly in Hawaii, living out his retirement but still being involved in charitable works and writing books for kids. Then, disaster struck in October 2021.
Nance passed away at age 66. Although details are murky, Bergener's Instagram post about his death hinted it had something to do with the sickle cell anemia he had.
"He was the oldest living man in the US with sickle cell anemia," Bergener wrote in her post. She also mentioned his many good deeds for children with fatal illnesses and years of being a weatherman at NBC.
Nance did not have the best of relationships with his daughter, but the father-daughter duo had reconnected in 2020. The RHOC star mentioned how he gave her good memories to keep in the time they spent together.
"Your incredible insight and encouragement is something I will cherish for life," she added. Bergener also made note of his love of being a grandparent and how her son James had his eyes.
"If I didn't tell you enough while you were here how proud I am to be your daughter I hope you hear it in the heavens," she concluded. "I love you."
Christopher Nance's Cut-Short Time at KNBC after Sexual Harassment Allegations
Nance's time on TV as the Weather Dude was cut short in 2002 when the news station let him go after sexual misconduct allegations. The company fired him in late December 2002 after suspending him in August.
He was suspended after an intern complained he directed inappropriate behavior toward her. Nance got reinstated for a while but got a termination letter from the company out of the blue.
47 at the time, Nance claimed the allegations were false. The accusations came at an especially difficult time for him — he had been dealing with marital problems with his wife, issues the accusations only exacerbated.
"There was nothing inappropriate about it. There was nothing physical," he said of his said actions with the intern. "There was nothing sexual."
Nance hit back at the allegations saying he was bound to have made some enemies at the station after 17 years.
The stress from the accusations, as well as his brother's recent-at-the-time passing, caused his sickle cell anemia to relapse. But he had recovered shortly after.