Inside Micky Dolenz's Family Life with Spouse and Children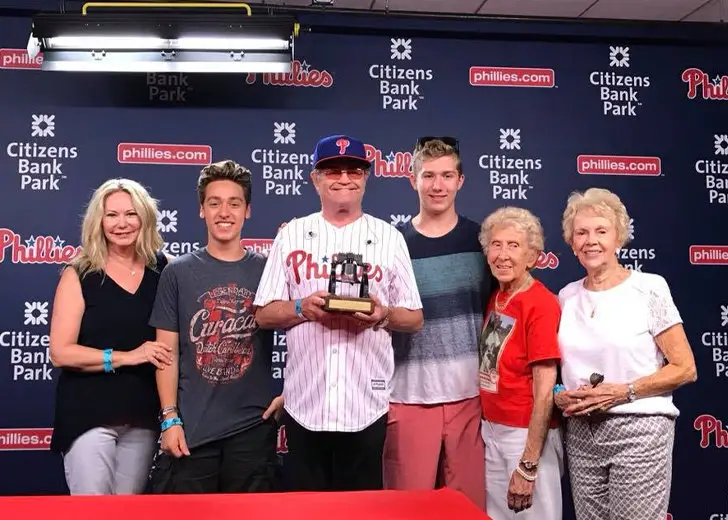 Micky Dolenz has been married three times [from 1968 to 1975 to Samantha Juste, 1977 to 1991 to Trina Dow, and since 2002 to his spouse Donna Quinter].
The Monkees' singer claims that he has always picked strong, intelligent, and attractive women.
He says he has learned that things don't always work out in relationships and that it's okay.
"I always thought I'd get married and don't see anything wrong in doing it more than once." joked Dolenz to a reporter from The Sydney Morning Herald.
He said that one could learn more about women by marrying more than once, as he has done, and in the process also learn more about oneself.
He also pointed out how common it had become to have two or three serious relationships over the period of one's life.
Referring to his current spouse, Quinter, the American rock and pop band artist said that she helps him get ready for shows and also takes care of his health.
He sees his spouse as a bright, attractive wife who makes the 'Circle Sky' singer look good.
Dolenz is grateful to have the company of someone close who can "keep it real" with him while he is on tour.
He also appreciates that his wife is not the jealous type and understands that other women will crave his attention after shows.
"She gets plenty of attention herself. We have mutual respect and love one another," said Dolenz to the SMH reporter.
Donna Quinter's Fraud Case
Dolenz's spouse pleaded guilty to defrauding a New York City public housing program in August 2009.
This happened during the aftermath of the 2008 Housing Bubble that led to a financial crisis across the world.

Micky Dolenz With His Wife Donna Quinter (Source: Dolenz's Instagram) 
Donna Quinter, 54, allegedly collected $136,866 in unlawful government rental subsidies for an apartment on Manhattan's Upper East Side, according to the city's Department of Investigation.
The subsidies were intended for middle-income families who were about to be evicted from a rent-controlled apartment complex that was being transformed into luxury condominiums.
Quinter allegedly neglected to mention that she was sharing an apartment with a buddy who paid rent, according to investigators.
She received her five days of community service sentence after surrendering to authorities and writing out a check of $136,866, pleading guilty to a misdemeanor larceny charge.
Do Micky Dolenz and Wife Have Children?
Before making Quinter his spouse, Dolenz already had kids with his ex-wives.
He has a daughter, Ami, with Samantha and three (Charlotte, Emily, and Georgia) with Trina.
Dolenz said that he and his ex-wives always agreed on how they were going to raise their children.
"Sometimes I think my wives were busy bringing me up as well, and I am sure I drove them mad at times." jokes Dolenz.
He says that he is very close with his children. He admits that he has had some ups and downs with them but feels blessed to have four "incredible" children.
Dolenz runs a woodworking business named Dolenz & Daughters Fine Furniture with his youngest daughter, Georgia.
She is the only one, of his children, who lives near Dolenz in LA, and they share a love of handmade furniture.