Michelle Hardwick and Wife Kate Brooks Expose Homophobic Troll
Michelle Hardwick and her wife Kate Brooks put homophobic messages on blast.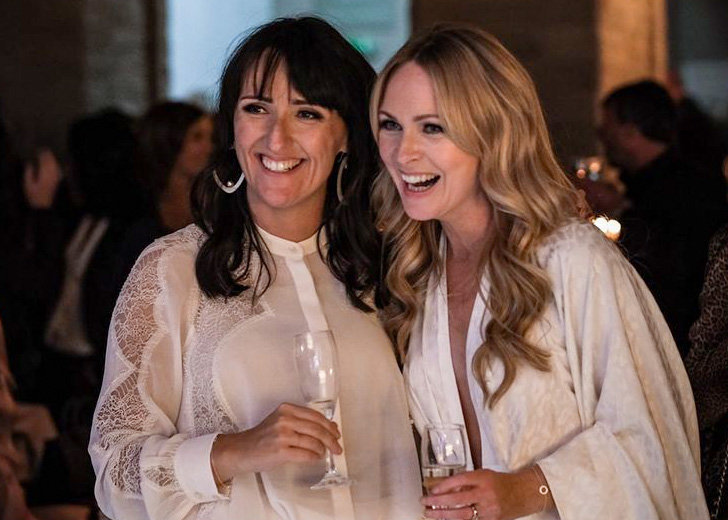 Michelle Hardwick and her wife Kate Brooks hit back at the abusers who sent them vile homophobic messages.
On August 28, the Emmerdale star, 45, took to Twitter to post the screenshots of messages detailing how she had been called with varied abusive, homophobic words on Instagram lately.
Posting the screenshot, Hardwick, who is openly gay, even dared the homophobe to show their real identity.
Her courageous act was praised by many of her followers on the internet. "Love wins here, darlings. Sending a ton of it your way," one applauded.
Another tweeted, "What a vile pathetic coward excuse for a human...not worthy of wasting your energy giving em a thought...hope you & your lovely little family have a fabulous bank holiday."
Out of them, one tweet stood out — the tweet dropped by the soap star's wife, Brooks. Her tweet:
Impressed with her wife, Hardwick quickly quote tweeted Brooks's tweet with a nail polish emoji. The following day, she also wrote a note to thank everyone for showing love and support for her original tweet.
In the tweet, she shared how overwhelmed she was by all the "beautiful" supportive messages, before adding she didn't take those vile homophobic messages to heart.
She also promised to read all the good messages she had received, even if she personally knew them or not.
Michelle Hardwick and Kate Brooks Welcomed a Son
The lesbian couple became proud parents of a son named Teddy on October 9, 2020. Two days later, Hardwick took to Instagram to share a couple of snaps of herself with the baby boy and Brooks.
The first picture — a black and white snap — saw Michelle beaming in her hospital bed with the little boy snuggling beside her, wearing a knitted hat and wrapped in a towel. The second photo was in color, with the little one under a rainbow blanket as she gazed down adoringly at him.
Hardwick had previously announced the news of her pregnancy through her social media on April 21, 2020.
At present, a quick scroll through both Hardwick and Brooks' Instagram shows how happy the couple has been living together with their newborn kid.
Their Relationship Started After Michelle Hardwick's First Divorce
Hardwick was heartbroken and devastated before she and Brooks started their relationship. That is because the English actress was previously married to Rosie Nicholl, a music teacher, from 2015 to 2017.
But their marriage ended in 2017. "Unfortunately, Rosie and I split last year, but we are still good friends," Hardwick said, at the time.
However, little did she know that her fate would lead her to meet the talented TV executive, Brooks, on the sets of Emmerdale.
She subsequently announced her relationship with her newfound love in October 2018, on National Coming Out Day.
About a year later, in September, the two got married in a low-key ceremony, and since then, the couple has remained by each other's side in highs and lows.