Is Michael Strahan Gay? Here's What We Know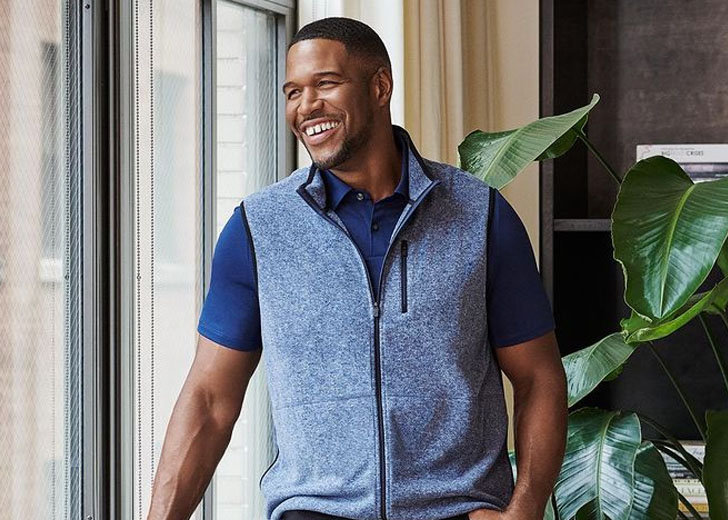 Michael Strahan's sporting background teamed with a contagious personality has proven to be a TV hit among audiences. 
Strahan now has achieved a specific influence, and he uses his pedestal to advocate for inclusion and equality in the NFL. This all goes parallel with his support for gay marriage.
The other side of this story is that his advocacy has aroused gossip and suspicion of him being gay himself as well. His second wife certainly thought so.
So, is Michael Strahan gay?
Michael Strahan's Denies Being Gay
The rumors of being gay had been damaging to Strahan's career. However, in October 2012, he came clean publicly through a sit-down on Real Sports with Bryant Gumbel.
The accusation was put forward by his second ex-wife, Jean Muggli, who told the media that not only was he gay and had cheated on her with another man but had been physically abusing her as well.
While it was undoubtedly a delicate subject, the former football player clearly articulated that he is neither gay, an adulterer, nor an abuser.
Michael Strahan And Jean Muggli's Bitter Separation
Muggli used to be a skin-care salon associate, and Strahan was her client during the mid-90s. They eventually got around to going out together and got married in 1999.
While marriages are supposed to end happily-ever-after, the couple's began spiraling down. Their marriage had become unsalvageable after pregnancy difficulties and a stress-riddled season for the Giants. 
The straw that broke the camel's back was when Jean withdrew $3 million from Strahan's account. He began filing for divorce immediately, followed by Muggli accusing him of neglect, assault, and adultery. 
They settled their divorce in 2006 peacefully. While animosity still exists between them, Strahan credits his twin daughters for empowering him to take the civil high road.
Michael Strahan's Support For The Other Team
To clarify once again, the former football star is not gay. Yet, he is a firm believer in how one's life should not dictate their ability and position to play football.
His very active Twitter too showcases his support for inclusivity in the sport.
@deralboykin You know you played with gay players before who just didn't publicly let it be know. Let this kid live! — Michael Strahan (@michaelstrahan) May 10, 2014
This makes him one of the most prominent voices advocating for the issue.
If your scared of your sexuality then you would think so!! Check yourself homie!! RT @215fbj: @michaelstrahan that's gay — Michael Strahan (@michaelstrahan) April 25, 2010
In his private life, he has exclusively been in straight relationships. His first marriage was with Wanda Hutchins, an entrepreneur, in 1992.
They had a daughter and a son together before divorcing in 1996. His second wife was the notorious Muggli, and they had twin girls.
Following their divorce, Strahan got engaged with Nicole Mitchelle, notably Eddie Murphy's wife. However, they had to separate five years later without getting married.
Now, he has been happily dating Kayla Quick since 2015 and still maintains healthy relationships with all his kids.