Michael Buble Reveals Wife's Baby Bump in New Music Video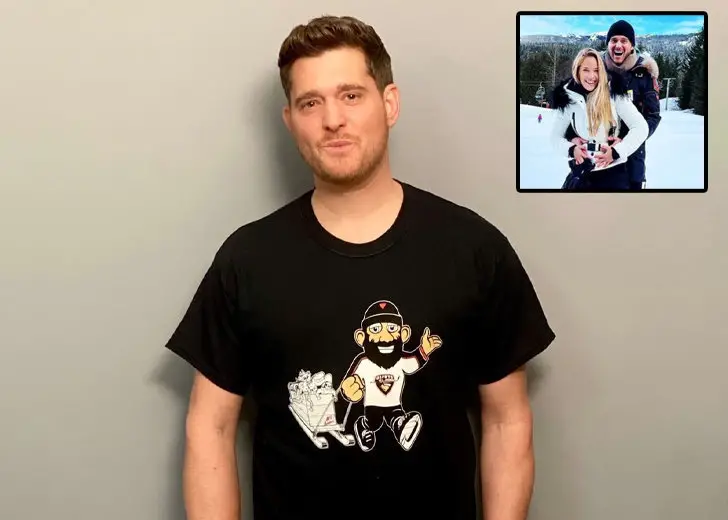 Michael Buble released the music video for his latest song, 'I'll Never Not Love You' on February 22, 2022.
In the music video, Buble and his wife recreate several romantic scenes from some of the most iconic movies in history.
And at the end of the video, Buble's entire family walks out of a store, where Luisana Lopilato, his spouse, can be seen with a baby bump.

Michael Buble's pregnant wife Luisana Lopilato in the music video of 'I'll Never Not Love You' (Source: YouTube)
The video led many to speculate if it was just a random scene in the music video or the singer's way of announcing another child being on the way.
However, not long after, Buble himself confirmed what the truth was during his appearance on On Air With Ryan Seacrest.
Lopilato also revealed she was pregnant with a post on Instagram.
Michael Buble Confirms Wife Is Pregnant
A few hours after his song 'I'll Never Not Love You' premiered on his YouTube channel, Buble appeared on On Air With Ryan Seacrest.
There, Seacrest asked the 'Sway' hitmaker about the truth behind the last clip in the music video.
Buble joked, saying his wife had gotten fat during the four-day shoot because Craft Service had way too much good food.
He later got serious and confirmed Lopilato was pregnant.
"The truth is, we are so excited," he said. "We're so excited we get to tell people… This will be the first time I actually say these words, but yes, my wife and I are grateful to be expecting our fourth [child]."
Michael Buble's Family
Buble and Lopilato got together in 2008. A year after they started dating, the pair got engaged in November 2009.
They eventually tied the knot in March 2011 in Buenos Aires. Bublé and his partner became parents for the first time on August 27, 2013, when she gave birth to her son Noah Buble.
Lopilato became pregnant once again a year later. They welcomed their second child together, son Elias Buble, on January 22, 2016.
Two years later, their family of four grew larger when Lopilato gave birth to their only daughter, Vida Amber Betty Buble, on July 26, 2018.
Son Was Diagnosed with Cancer
Buble and Lopilato's oldest child, Noah, was diagnosed with liver cancer in 2016. Following the diagnosis, Bublé had shared he wasn't sure if he would return to making music.
"Family is what matters," he said. "The health of my children is No.1. The relationship with my family, my wife, my faith—all of it is easily No.1."
Buble later described the time after his son's diagnosis as being some of his most painful.
"I would much rather it would have been me," he told The Today Show. "Sometimes we wished we didn't wake up."
Even though Noah recovered after chemotherapy and radiation treatments, Buble admitted to James Corden during a Carpool Karaoke session that he still wasn't OK.
Bublé noted he had somehow supported his wife and held himself up during the entire treatment process. However, when the treatment was over, he "just fell" and added that Lopilato now picks him up.