Megan Thee Stallion's Boyfriend Pardi Clears Break up Rumors and Domestic Violence Allegations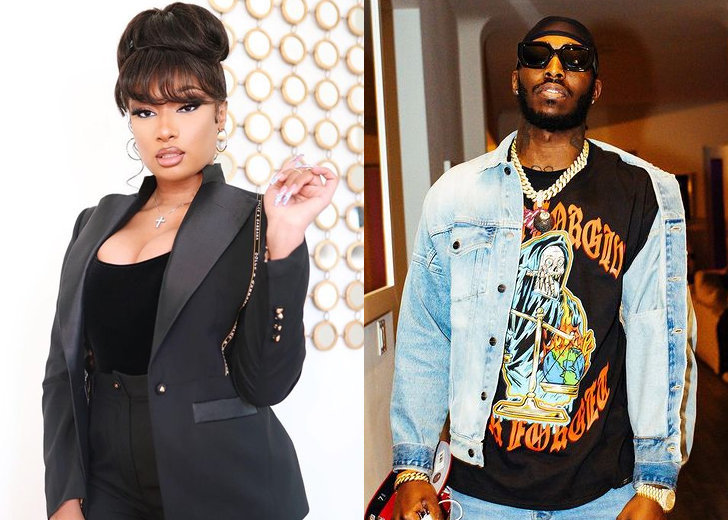 Megan Thee Stallion started rumors about her break up with boyfriend Pardi (short for Pardison Fontaine) in early January 2022. She wiped her Instagram clean of posts with him.
The rumor mill that started churning has seemingly been put to rest by Pardi.
On January 19, he took to Instagram to dispel the break up gossips, as well as speculations about something else.
Megan Thee Stallion's Boyfriend Pardison Fontaine Ends Break up Rumors
On the date mentioned above, Pardi uploaded a story on his Instagram addressing everything going on.
He revealed he had been noticing break up rumors about him and Megan for a while. But he left everyone to their deductions for a while.
It had started to get a bit too much for him. So he possibly felt the need to respond and clarify a few things.
"Been seein the break up rumors and was lettin y'all imaginations run," Pardi wrote on his post.
"But y'all gettin too crazy," he continued.
Then he accused the media and everyone else of making things up about their relationship because he, or rather, they gave them nothing to work with.
Towards the end of the short writing, Pardi revealed that he and Megan had been doing well.
"We really been on it double time," he quipped and used fingers crossed and padlock emojis to imply they had been together the whole time.
Megan and her boyfriend's split rumors first started propping up in late 2021 after Megan did not wish Pardi on his birthday on December 29.
Eagle-eyed fans then spotted that Megan had deleted or hid all the posts with him from her Instagram.
Then, a few days later, MTO came out with a now-deleted piece that claimed Pardi had had enough of Megan.
The article alleged that Megan was a "mean drunk" — she had a bad temper when under the influence.
Pardison Fontaine Also Denied Domestic Violence Allegations
Pardi had been under fire from Megan's fanbase since February 2021 for alleged domestic violence and abuse against Megan.
In a viral clip, Pardi was seen behaving violently and even breaking a door open at one point in the video.
This sent fans into a frenzy, who then started dragging Pardi all over Twitter, alleging he abused Megan.
It was also speculated that Megan split up from him because of these abusive actions.
But Megan defended her boyfriend shortly after.
"People don't know what the hell they talking about, they just be saying anything," Megan said in his defense. "Cause he is so calm and so sweet."
Further, she claimed he was very respectful and would never do anything to hurt her.
And now, fans are hearing the truth straight from the horse's mouth. At the beginning of his story, Pardi also denied the abuse allegations.

Megan Thee Stallion's boyfriend Pardison Fontaine denied break up and domestic violence rumors. (Photo: Instagram)
"Stop this cap," he wrote. "Nobody putting hands on nobody ...(At least not in that way)."
With these responses, Pardi has confirmed that he and Megan are still very much a thing.
The couple started dating in late 2020 and went public with their relationship in February 2021. They celebrated their first anniversary on October 20, 2021.