OutDaughtered! Mark McGwire's Epic Reaction to Wife Stephanie Slemer's Pregnancy with Triplets
Mark McGwire's jaw dropped when he found he and his wife were expecting triplets.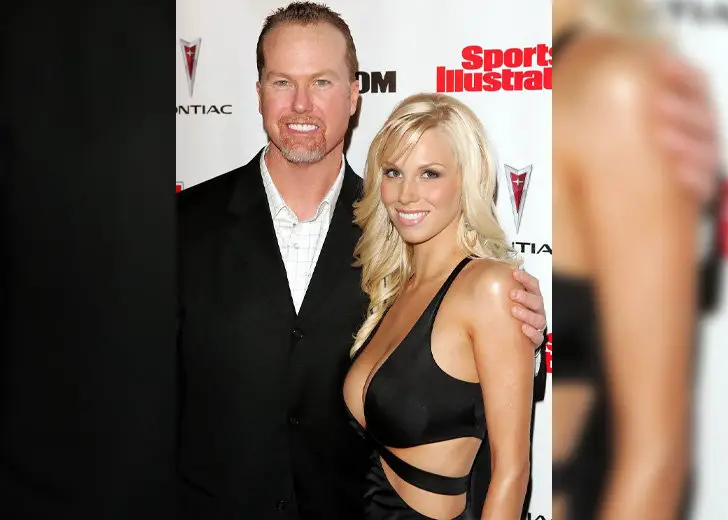 Mark McGwire and his wife Stephanie Selmer were shocked to find that they were expecting triplets, all daughters, back in 2010. McGwire, who had previously welcomed three sons before, shared he felt like a cartoon character when he received the news.
Well, you know that cartoon that we all grew up with where the mouth just drops all the way down to the floor.
McGwire also joked about regretting naming all his kids starting with the alphabet M. "They are all M's. I don't know why I did that. My older son is Matt then I have Max then Mason, Marlo, Monet and Monroe. And to this day, I still screw it all up."
Mark McGwire And Ex-Wife Kathleen Hughes
While playing at the University of South Carolina in the 1980s, McGwire began dating Kathleen Hughes. After being in a relationship for multiple years, they got married in 1984.
Following three years of marriage, the baseball legend and Hughes welcomed their only child together, son Matthew, in 1987.
Unfortunately, their marriage didn't last for long, and they separated in 1990.
Mark McGwire And Wife Stephanie Selmer
McGwire and his current wife Selmer met in St. Louis, Missouri, through a mutual friend. She was working as a sales representative for Tap Pharmaceuticals at the time.
It didn't take long for them to start dating after their first meeting, and they announced their engagement after a year and a half of dating.
Being engaged to a baseball legend, Selmer received a lot of attention but handled it very well. Her family also treated him as her fiance and not a celebrity since they were never into sports.
McGwire and Selmer tied the knot in a private wedding ceremony at the MGM Grand Hotel in Las Vegas on April 20, 2002.
They Have 5 Kids Together
McGwire and Selmer have five children together. Aside from Matthew, whom McGwire had with his ex-wife, they welcomed sons Max and Mason after their marriage.
Their family grew larger on June 1, 2010, after they were joined by their triplet girls — Monet Rose, Marlo Rose, and Monroe Rose.
Selmer's Health Issue
Back in 2016, it was revealed that Selmer was dealing with an illness that could turn out fatal. While McGwire or Selmer never went into detail about what she was dealing with, he shared it was severe enough for him to leave his coaching duties to be with his family for three weeks.
I had to take care of my wife and my five children. I think she's on the backside of this right now, so she's getting better. It wasn't life-threatening, thank God. All tests came back negative, but it was important enough for me to be there for three weeks.
McGwire also added that the ordeal was made easier by the support from his mother and mother-in-law, both of whom were present to help him and his kids. In addition, the San Diego Padres, whom he was coaching, were also fantastic as he received well wishes and support from both the staff and players alike.