The Force of Love and Marriage Is Strong with Mark Hamill and His Wife Marilou York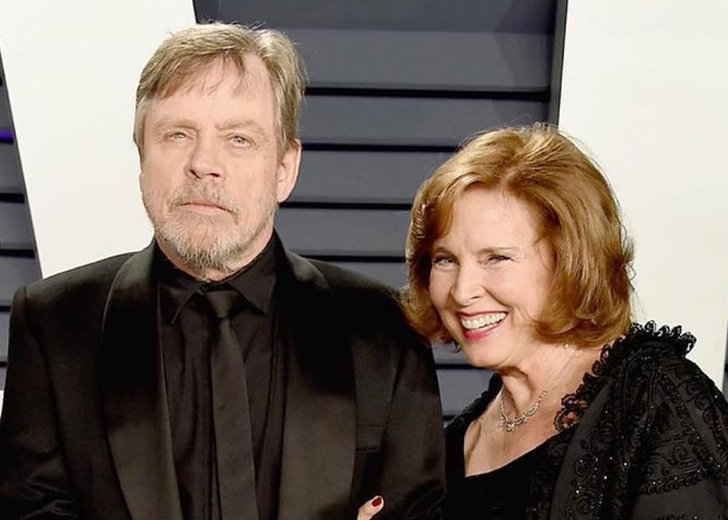 Mark Hamill has one of the longest marriages in the Hollywood Industry. He has been with his wife for over 43 years, and the love between them is still growing.
Hamill has had a celebrated career, most notable for his big-screen debut and legacy roles as Luke Skywalker in the famed Star Wars franchise.
More religious fans and casuals will also recognize him for his accomplished voice roles as The Joker in various DC Comics properties.
However, these accomplishments seem to pale over his most incredible milestone — his marriage with his wife, Marilou York. And it is pretty obvious and blatant with the way the lovebirds are around each other.
While the entire world fawns over the Last Jedi, the Master himself can't seem to get enough of his soulmate. That being said, things weren't always so hopeful.

Mark Hamill posing for a picture with Baby Yoda. (Source: Instagram)
Mark Hamill and His Wife's Relationship
York worked as a dental hygienist in Westwood. That is where she met Hamill, and for him, it was love at first sight.
He candidly spoke to People back in 1981 about how the first thing that caught his attention was her dressing sense and elegance. He then hit her with a bold pickup line, and the next thing he knows is that, they started dating.
On one of their initial dates during a screen of A New Hope, his future wife had noticed bad caps on a minor character's teeth. This instance let him know she was a woman of humor — a significant criterion for the actor.  
But their romance didn't take off just like that. Instead, the star claimed the stardom got to him, and they briefly split up.
That's when he tried dating groupies, Vegas showgirls, and other celebrities to fill the void. He soon realized that these relations were transitional, and he needed to hang on to something.
And he found this out the hard way. Following a rocky relationship in the '70s with Anne Wyndham, his co-star in General Hospital, he found the two got unusually competitive.
It wasn't like the two were poaching roles from each other, but the toxicity was there. Hamill, after all, wanted a family and a career.
And he would not take someone else's career to have his family. So he and his wife reunited in December 1978 and married in the backyard of their Malibu house.
Soon after, they had their first son, and they have been smitten with each other ever since.
In a Reddit Ask Me Anything, the actor was asked his key to a successful marriage with his wife.
He had replied that he got lucking in finding his Mrs. Right. He went on to list having one's fingers crossed, abstinence from adultery, and having kids as parenthood is an exercise in keeping everyone happy.

Mark Hamill posing with his wife York, son Nathan, son Griffin and daughter Chelsea in the '90s. (Source: Instagram)
Being married to a famous name can be daunting at times, often resulting in being overshadowed. For York, however, she is truly a woman behind a successful man.
Along with 28-year-old daughter Chelsea, York works as the CFO at the Amazing Invisible Inc. The enterprise handles Hamill's investments, properties, and other ventures.
The Young Jedis Have Their Journeys
Hamill's children are artists in their way, and they are all pursuing their passions in their respective fields. Besides illustrating and designing toys, eldest son Nathan is a talented artist. 
The younger son, Griffin, is an actor and martial arts instructor best known for his work on the film Silent Night. Then, public relations is daughter Chelsea's job at her father's company. 
The three also have some acting credits in the Star Wars franchise. And be it son or daughter, their passions or his, Hamill is as proud of his kids as he is in love with his wife.