The Exemplary Chemistry of Lucas Cruikshank and His Boyfriend Matthew Fawcus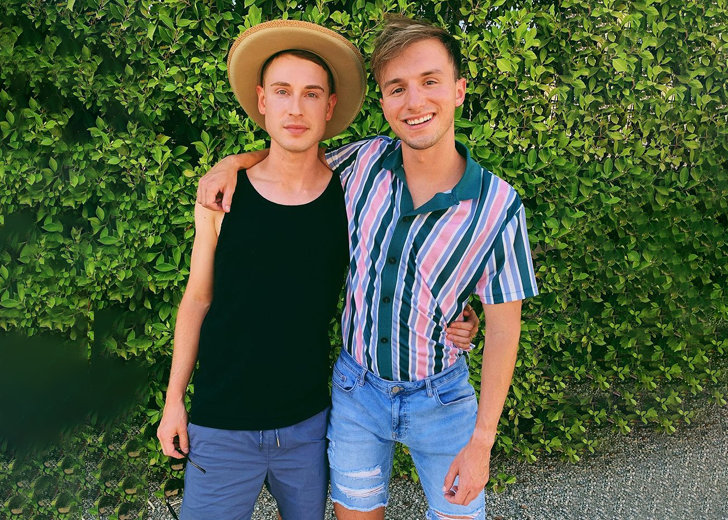 Lucas Cruikshank and his boyfriend, Matthew Fawcus, are smitten! Anyone with one and a half eyes shut could tell that with just a swipe through either's Instagram pages. 
What many of you might not know is that this gay romance has been going steadily strong for just a week short of 9 whole years as of this writing.
Cruikshank and his boyfriend dated in private for a couple of years before either of them made the news of the relationship official. 
On that note, Cruikshank was the one to have broken the news of his boyfriend in the public sphere over a YouTube video.
As if that wasn't enough for fans to ship the two sweethearts, Cruikshank explicitly confirmed his relationship with Fawcus over an interview with Super Fame. 

Lucas Cruikshank with his boyfriend, Matthew Fawcus (Source: Instagram)
The Nickelodeon star also dished that they were living in Australia at the time (2015) and that he was soon to visit his boyfriend's family. 
Lucas Cruikshank Met Boyfriend over Facebook
Their once upon a time was in 2012 when Fawcus, an Australian resident, was in the States. By sheer coincidence, the two of them happened to be at the same club. 
"Lucas was there underage," Fawcus revealed to the outlet. Still, the two of them were looking at each other from afar and eventually added one another on Facebook. 
Yes, their romance predates Instagram slide-ins — longtime lovers for sure!
Well, the couple did initiate their conversations over on Facebook. Still, they have yet to agree on if Fawcus added Cruikshank on Facebook first or just dropped a message. 
They agree on one thing, though — they met via YouTuber Kingsley, who introduced them.
Lucas Cruikshank & Matthew Fawcus' Firsts
The first time Cruikshank and his boyfriend went out, they got themselves some Pinkberry and drove around listening to Demi Lovato and Paris Hilton. 
Albeit, neither of them know to date if that was to be considered their first date. 
"We never knew if it was a date," Lucas admitted. "We were both creepishly shy about it."
In the list of firsts, their first kiss didn't come until their fourth date. Well, without an established first date, it's hard to know when the first one was, but Fawcus had this to say:
By the fourth date, I was like, this is [expletive] up. I'm going to kiss him, this is so stupid. Then I kissed him.
Lucas Cruikshank's Coming Out
Cruikshank came out as a gay man shortly before he went public with his relationship.
As per New York Daily News, the then-19-year-old came out over a YouTube video with the help of his friend Jennifer Veal. 
The video was a Q&A address where the duo answered questions from Twitter. One of the questions posted by a fan inquired about Cruikshank's sexual orientation. 
"I'm gay," Cruikshank said, breaking into a fit of giggles. "It feels so weird saying it on camera."
He went on to add it had been an open secret within his friends and family and that he never really felt the need to announce his preference out into the public sphere. 
Shortly hence, he went on to ask the Disney star, "How come you didn't have to make a video saying you're straight?"