Is Lizard Lick Towing Real? The Truth behind the Show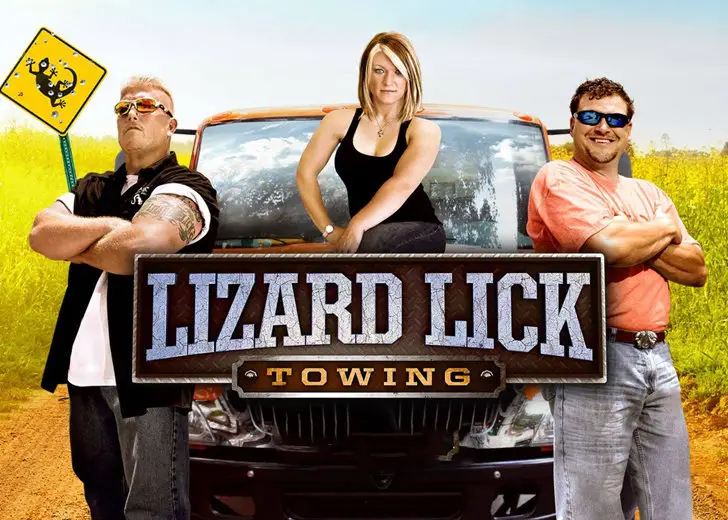 When a series is dubbed a reality show, people are bound to ask whether it is real or fake. While most reality shows claim to be completely real and not scripted, fans are still skeptical about it. 
Moreover, some shows have been proven to be fake, even when they claim otherwise. Therefore, people love to know if certain projects are true as they claim or are scripted. 
Lizard Lick Towing is one such show that is often questioned. So what is the truth? Is Lizard Lick Towing real? Or is it completely fabricated?
Here is everything we know about the show.  
What is 'Lizard Lick Towing?'
Lizard Lick Towing is a reality TV show based on a towing company of the same name. The spinoff of the All Worked Up featured the towing company owners, Ron Shirley and Amy Shirley. 

Logo of Lizard Lick Towing & Recovery company. (Source: Facebook)
It aired from February 7, 2011, to August 18, 2014, spread across four seasons. The reality TV series follows Ron and Amy alongside their team members, like Bobby Brantley, Krazy Dave Eckler, and Cassie. 
The towing company is in Lizard Lick, Wendell, North Carolina. Hence, the location was the inspiration behind the name of the company. 
Ron and Amy started their towing and repossessing business in 1998 with just one truck. Over time, they slowly built their business with over a dozen trucks and staff members. 
Moreover, it became the center of two reality TV shows. First, they were a part of All Worked Up, but later became Lizard Lick Towing revolved completely around them. 
The four seasons of the latter focused on the Shirleys while they repossessed and towed vehicles. They also dealt with their customers and argued with people who did not want their cars towed.  

Ron Shirley and Amy Shirley posing for a picture. (Source: Facebook)
According to their website, Ron, Amy, and "Lizard Lick Krew" took pride in being able to tow anything, anytime and from any place. 
Is Lizard Lick Towing Real? 
Many people have questioned, "is Lizard Lick Towing real?" because of the events that take place in the show. After the crew members take other people's cars, the owners confront them. 
It almost turns into a fight every single episode when they do so. Moreover, the crew members don't call the police when things take a dark turn but instead go with the flow. 
According to truTV's FAQ (via Total Music Awards), the cable channel where the show aired, the channel is not a reality TV network. Instead, they simply focus on series that "feature real-life situations."
They also clarified that their theme was "Not Reality. Actuality." Since Lizard Lick Towing was a part of truTV, it means that the show featured "real-life situations."
However, fans and critics have a hard time believing it. They have taken to Quora, IMDb, and the show's Facebook page to discuss it.
They have complained that the people and company of the show might be real, but the episodes feel extremely inauthentic. 
Some have also noted that if the show were not scripted, police would have come every time because of the events that took place or were filmed.
Regardless of it all, the showrunners and cast members have claimed it to be true or based on true events.