Who Is Lili Reinhart's Sister? Details on the Reinhart Siblings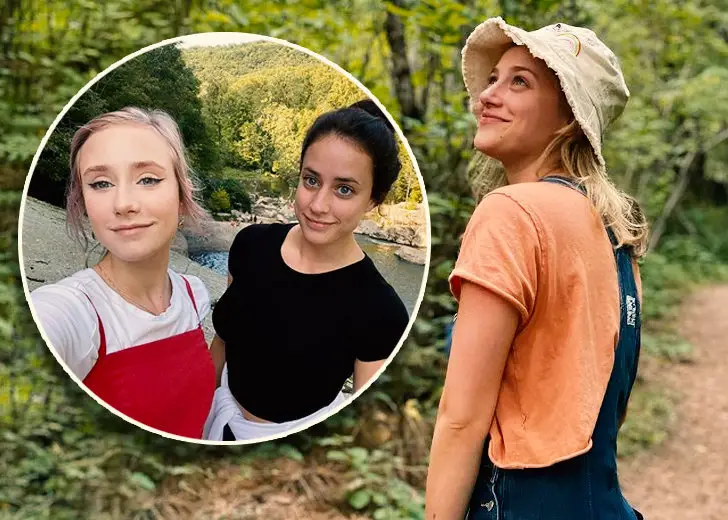 In 2016, actress Lili Reinhart posted a picture of herself with her sister Tess Reinhart on her Instagram account.
While it was a normal picture depicting two siblings, the wider audience jumped on the twin train and started making remarks. The photo was captioned, "Enjoy this picture of my sister and I- looking like a married couple on their honeymoon."
At first glance, it seems that Reinhart and Tess do, in fact, look like twins. But in reality, they are not known to be as such.
While many of Reinhart's fans commented on the picture with remarks like, "Perfect," "beauties," "Y'all so pretty," etc., the count of "twins" comments remained high.
On that front, people made comments like, "u guys look like twins," and "She looks a lot like you."
Who Is Lili Reinhart's Sister Tess Reinhart?
Upon noticing that the Riverdale actress has a sister, many of her curious fans wanted to know more about Tess.
Tess is a YouTuber presently with 117,000 subscribers on her self-titled channel.
However, as per an official statement posted on the channel, the budding content creator is currently on a hiatus.
Around two years ago, Tess took to her YouTube account and posted a lengthy statement. A part of it read, 
Hey guys, i wanted to let you know that i am not sure i'll be continuing to do youtube videos. i'm not sure i can create content i am super happy with and i'm not sure i can do everything i'd like to be able to do to help out you guys or keep you entertained.
Prior to her timeout with YouTube, Tess was known for posting makeup tutorials regularly. But unfortunately, navigating through her account at present suggests that she has removed all her contents for reasons unstated.
On the contrary, Reinhart's sibling seems to be active on Instagram, where she goes by the handle @tessreinhart. On Instagram, Tess is currently being followed by her 170,000 fans.
A quick scroll down the gallery of images posted on her social media shows Tess having quality time with her family members and boyfriend.
Tess Reinhart Is in a Relationship
Based on the many posts shared by Tess and her boyfriend, it can be said the two are dating each other.
Tess is known to be in a relationship with her boyfriend Dylan Castoria for more than two years.
On August 22, she marked her two-year relationship with her boyfriend Castoria by posting a series of images of the couple on her Instagram, accompanied by a sweet caption.
In the text of the anniversary post, Tess thanked Castoria for "being my constant support in the craziest times," and concluded her writing by affirming her love for her boyfriend.
In exchange, Castoria returned the favor with his take on their love life. He called Tess to be "the greatest thing that's ever happened to me," and promised to "love you always."
Tess and Reinhart has an Older Sister
Actress Reinhart has one more sister apart from Tess. Her name is Chloe Reinhart, the oldest of the siblings.
Unlike Tess, Chloe is adequately popular on Instagram. As of this writing, she is being followed by nearly 91,000 Instagram users.
Siblings Chloe and Tess are known to be vocal regarding their love for their popular sister Reinhart.
For instance, on Reinhart's twenty-third birthday, older sibling Chloe took to her Instagram and expressed her sisterly love for Reinhart. 
Chloe posted a picture of the actress who can be seen posing for the camera while she rocks a black outfit.
In her birthday wish, Chloe remarked the actress to be "someone who represents smart and realistic body types," and ended her writing by calling Reinhart "THE BEST."
Likewise, Tess made her feelings for sister Reinhart public with a social media post in September 2019.
In the post, Tess said that she felt proud of her sister and mentioned how "our family is always rooting for you."