Is Lee Pace Married to Boyfriend Matthew Foley? All the Hints Uncovered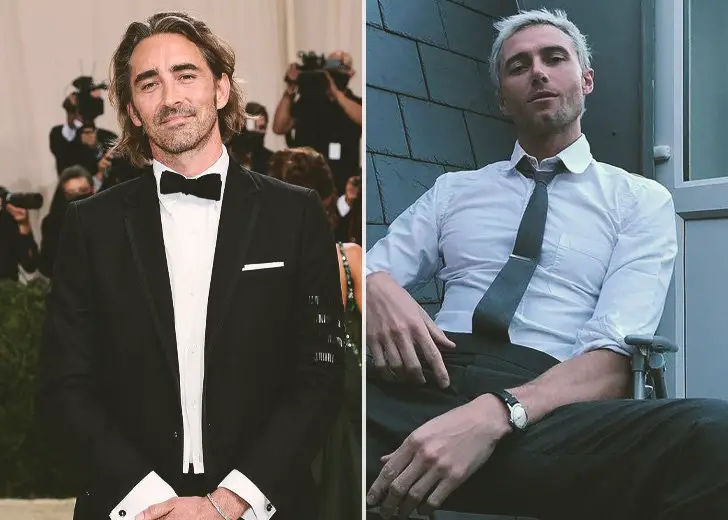 The 2021 Met Gala took place on September 13. Celebrities and designers officially gathered at the most anticipated event in fashion.
They brought their A-game on the red carpet in a slew of expressive looks, from embellished gowns to dramatic costumes and everything in between. 
While most celebrities turned heads with their choice of outfits, Pushing Daisies' actor Lee Pace raised eyebrows with his fashion sense. Pace was dressed in a black-tie and short suit by Thom Browne. 
But eagle-eyed fans noticed that he was wearing a gold band on his ring finger. 
This caused fans to wonder, "is Lee Pace married?" Pace is notoriously private about his personal life in interviews and social media. So far, he has not made any public statement about his marital status. 
Lee Pace and His Boyfriend
During Pace's feature on The Cut, reporter Tim Stack asked him about his gold band. 
Instead of answering, Pace feigned surprise and jokingly asked his dog, Gus, who was present at the interview. "What? No! How did that get there? Gus, do you know anything about that?" asked Pace.
While Pace's marital status is unconfirmed, according to reports, he has been in a long-term relationship.
Pace is reportedly dating Matthew Foley, and according to Matthew's Instagram profile, he is a VP of communications at Thom Browne.
They are a very private couple and rarely post about each other on social media. But there are some photos of the duo on each of their Instagram. 
In August, Pace uploaded a carousel from their camping trip. In one of the photos, Foley's back appeared, and his Instagram handle was tagged.
On his birthday earlier, he also wrote about Foley. In the caption, he thanked his family and Foley. 
According to Pride, Foley also posted Pace's photo on his Instagram stories for his birthday and called the actor "birthday babe."
The couple has reportedly been together since 2018.
Lee Pace's Coming Out 
In a recent phone interview, I was asked questions that I wasn't expecting and found myself momentarily at a loss for the right words. My privacy is important to me, so I protect it. When interviewed by the media, I keep the focus on my work. — Lee Pace (@leepace) March 5, 2018
In 2018, during his interview with W Magazine, Pace was asked about his sexuality. The question left him flustered as he told the report he found it intrusive. 
But the actor admitted that he had both dated men and women, but there are no reports of him having a girlfriend so far.
He also explained why anyone should care about his sexual orientation when he was just an actor who played all kinds of roles. 
After the interview, he tweeted, describing himself as "a member of the queer community." That was his first official coming out ever since he was accidentally outed in a 2012 interview with Ian McKellen, who implied that Pace and several of his Hobbit co-stars were gay men.
In Pace's The New York Times profile, the actor stated that he never felt like he owed anyone an explanation about who he was or what he did.
"I mean talk about a farce, like 12 times I read "He's come out!" I'm not hiding. I'm living and I always have been." he said.