Lee Mack's Sitcom 'Not Going Out' Was Inspired by His Wife and Children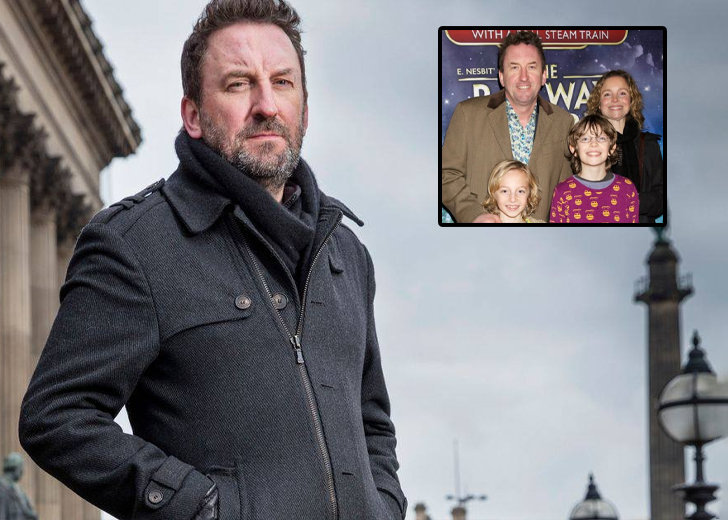 If you have watched the British television sitcom Not Going Out, you must be familiar with actor Lee Mack.
The 53-year-old actor, who wrote and starred in the show, played a fictional version of himself, sharing the screen with Sally Bretton, Geoffrey Whitehead, Deborah Grant, Megan Dodds, and Miranda Hart over the years.
The sitcom is apparently inspired by Mack's wife, Tara McKillop, and three children, Arlo, Louie, and Millie.
Speaking with Radio Times in January 2017, the actor admitted that he always wanted to write a sitcom about his real life and that he completed his dream with Not Going Out.
Lee Mack Talks about Sitcom, Wife, and Children Connection
During the same conversation, the interview asked him why the seven-year leap in the story between the 2015 Christmas special episode and the new season in 2017.
If you were unaware, the 2015 Christmas special ended with Mack's character having his first child with his new spouse, Lucy.
But in the new season that aired that year, his eldest son, Charlie, was joined by five-year-old twins Benji and Molly.
"So why the sudden fast-forward?" the actor was asked.
In reply, Mack said, "The truth is I just wanted to write a sitcom about what I am in real life, which is a husband and dad of three kids."

Lee Mack with his wife, Tara McKillop. (Photo: Twitter)
He explained that writing things based on his real-life allowed him to tap into stories that have an element of truth.
"It also means that when stuff happens to me in real life, I don't get angry about it, I just write it down and use it," he added.
Real-Life Events Inspired Many Episodes 
Mack also recalled an instance when he immediately realized that he could make an episode out of a particular moment.
He shared that he and his family went to the cinema before going for lunch to celebrate one of his kids' birthdays.
His wife, Tara, was letting the kids fill up huge cups of pick 'n' mix sweets there, but he was concerned that the kids should not have so much sugar before lunch.
Therefore, he asked his wife to tell the kids to leave the cups half full.
His wife, however, told him that the sweets were priced by cups and not by weight, with each cup costing over $5.
"So I suddenly heard myself say, 'Right, get it to the top,' and I began frantically pressing the sweets down into each cup, cramming as many in there as physically possible," he told the tabloid.
Meanwhile, he also felt that he could use the story for the sitcom. He said, "I thought, 'Brilliant. I'll use that. We can do an episode about how much sugar kids eat.'"
Does Lee Mack's Family Love the Sitcom?
When asked if his family loved the sitcom the same way he loved creating it, Mack stated that his partner and children weren't really bothered about it.
According to him, his spouse, whom he has been married to since 2005, didn't watch the show, while his eldest son occasionally saw it. 
"The only feedback I get from him is the occasional slightly arched eyebrow if he likes one of my character's jokes," Mack shared.
But despite him making a story out of them or them not watching the show, the parents of three happily live with their two sons and a daughter.