Lana Condor's Adopted Parents Encouraged Her to Perform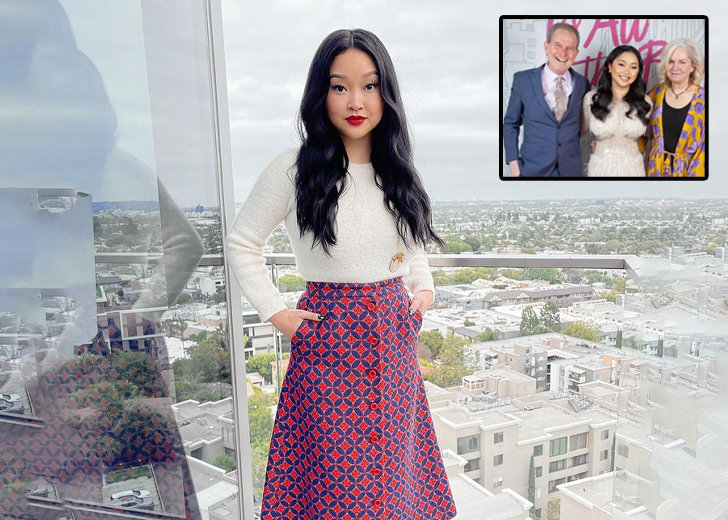 Lana Condor is just in her early 20s, but she has made a name for herself in the entertainment industry.
She started as Jubilee in X-Men: Apocalypse but gained worldwide fame as Lara Jean Covey in the Netflix To All the Boys trilogy. However, acting and performing are not the only skills Condor has.
She is a skilled dancer and an equestrian as well. She started acting after she, her brothers, and her parents moved to Los Angeles. 
Here is everything we know about Condor and her relationship with her parents. 
Lana Condor and Her Adoptive Parents 
It is unknown who Condor's biological parents are. On May 11, 1997, she was born in Vietnam and left at an orphanage in Cần Thơ. 

Lana Condor posing with her family. (Source: Instagram)
She spent her first few months in the orphanage and was named Tran Dong Lan.
In an August 2018 interview with Teen Vogue, she revealed her parents' nationality. Her mother is Irish, Mary Carol, and her father, Bob, is Hungarian.
Alongside Condor, the couple adopted Artie from a different Vietnamese family. Then, Mary Carol and Bob took their two new babies to the USA, where they lived in Washington and New York City. 
The actress and her brother "grew up in a mixed household." As a result, their adoptive parents tried their best to connect them to their ethnicity and roots.
They exposed her to Vietnamese culture and wanted her to learn about her ethnicity. But, she told the magazine, "they wanted so hard for me not to forget where I came from."

Lana Condor with her brother when they were young. (Source: Instagram)
To do this, they tried to make her eat Vietnamese food. But unfortunately, since Condor did not eat meat, it was "a little bit hard" for her.
But regardless of it all, Condor appreciated the efforts of her family to keep her connected with her roots and ethnicity. 
Lana Condor's Family Supported Her 
As said before, acting is not the only skill Condor has. According to NBC News, she trained ballet as a child and went to acclaimed schools to study it. 
Some of them were Joffrey Ballet in Chicago and Alvin Ailey American Dance Theater in New York. After her family moved to Los Angeles, she continued dancing ballet. 
But alongside it, she trained in theater and acting as well. Once again, she studied in highly prestigious schools like New York Film Academy, Yale Summer Conservatory for Actors, and Notre Dame Academy.
Condor told Anthem Magazine in 2015 that even though she danced and did sports, "at the end of the day," she liked the stage.
Her parents wanted her to complete her education but also wanted her to follow her acting career.
They told her she was young and had "so much time left." As a result, they were open to the idea of her taking a year off to pursue her passion and interest since "college will always be there."
Condor did the same, and soon, she was on the fast track to becoming one of the sought-after actresses in Hollywood.