Kofi Kingston's Wife Was Not Interested in Him When They First Met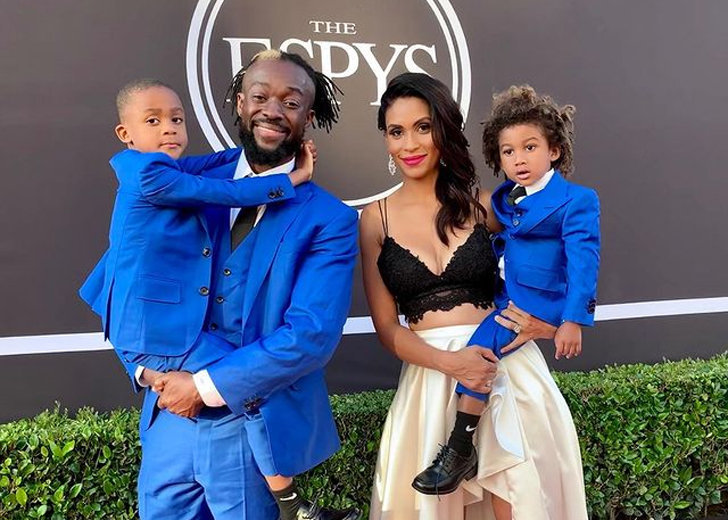 Kofi Kingston is perhaps one of the best WWE wrestlers to date. The only Africa-born world champion of WWE joined the wrestling world in 2005 and has won dozens of matches.
Kingston's personal life is also fulfilling and happy, just like his professional life. He has been married to his college sweetheart for over a decade and has three kids. 
Here is everything we know about Kingston, his wife, and his children. 
Meet Kofi Kingston's Wife, Kori Campfield 
Kingston and Campfield talked about their love story on WWE 24 Extra, where they offered a personal glimpse into their family. The pair's relationship started when they were both in college. 
Back then, Kingston was in his senior year and was about to graduate, whereas Campfield was a junior. Campfield observed the wrestler from afar and thought that he was "short, skinny, and not interested." 


Kofi Kingston and his wife, Kori Campfield. (Source: Instagram)
This made her not interested in Kingston. But it was quite the opposite with the WWE champion. He liked her and pursued her relentlessly. 
Eventually, he won Campfield's heart or, in her words, "wore her (me) down." Ever since then, the two have been together. 
Kingston has nothing but the best to say about his wife. He always adores and appreciates her on his social media. 
For instance, on Thanksgiving 2019, he posted a picture with Campbell on his Instagram and gushed about her on the captions. He said he was thankful for his life, family, and friends. 
But he was the most thankful for his wife. He appreciated her hard work on planning the holiday "from travel, to meals, decor, outfits for the family, and countless other tasks."


Kofi Kingston with his wife and kids. (Source: Instagram)
He wrote more about how he enjoyed Thanksgiving because of Campfield and ended the caption by saying he loved her. 
Kofi Kingston and His Children 
Kingston and his wife have two sons, Kai and Orion, and a daughter, Lotus. Kai was born in 2013, and the wrestler describes him as the adventurous one out of two sons. 
According to Kingston, Kai loves to live on the edge while celebrating his best life. He lives for the moment and is not shy to show himself off. 
Campfield also has the same views on their eldest child. She penned a lengthy note on Instagram on the occasion of his 6th birthday in April 2020, calling him independent and "go-getter."
She gushed about Kai's brilliant mind and said she was impressed by his building skills. Camfield also appreciated her son for being a wonderful big brother and looking out for his sibling. 


Kofi Kingston with his wife and kids. (Source: Instagram)
According to her, Kai is a nature lover with "an eye for detail spotting interesting critters and plants." She added she loved his extroverted personality and was inspired by his boldness. 
On the other hand, Orion is the polar opposite of his brother. He is shy but laid back, contemplative, and empathetic. Kingston welcomed his second son with his wife on April 28, 2016. 
Like she did with her eldest son, Campfield also gushed about Orion on her Instagram. On the occasion of his fourth birthday in May 2020, Campfield wrote that Orion had an "incredible imagination."
She adored his great sense of style and appreciated him giving her fashion advice. She also talked about how she loved that Orion is always with her while she is doing the dishes and gardening. 
She dubbed him her "personal bodyguard" and acknowledged him for being a great brother and a son. Kingston and Campfield were blessed with a baby girl on November 23, 2021. 
They named their daughter Lotus and she was born at home. Since she was born, both Kingston and his wife have been posted her on social media and appreciated their family.