Who Is Kenneth Petty? Here's What You Need to Know About Nicki Minaj's Husband
Nicki Minaj married her childhood sweetheart, Kenneth Petty.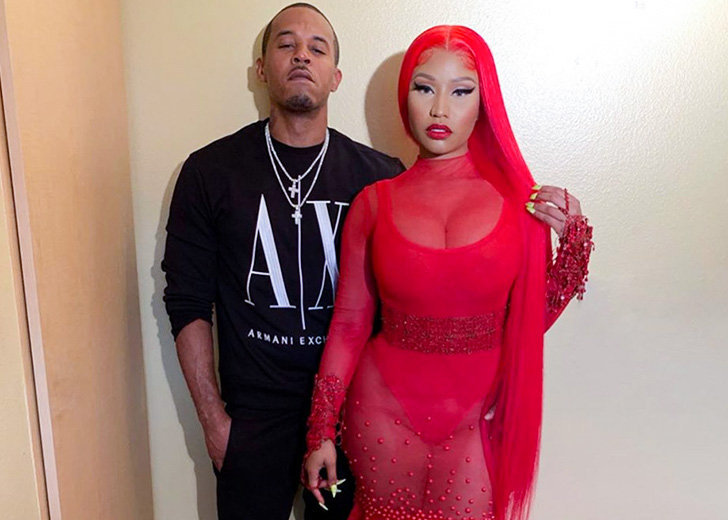 Nicki Minaj A.K.A Barbie met her Ken when she was only 17 living in Queens, New York. After tying the knot with Kenneth Petty in 2019, the couple welcomed their first child, a son, nine months later, in 2020.
Many fans have since wondered, who Is Kenneth Petty? Here are some things to know about Nicki Minaj's childhood sweetheart and husband. 
Nicki Minaj Calls Kenneth Petty 'Zoo'
Just like Minaj, Petty was raised in the borough of Queens in New York City, where he picked up the name 'Zoo' as a kid. 
Although his official name is Kenneth Petty, most of his peers and Minaj refer to him as 'Zoo.' 
Even during several Queen Radio episodes, she calls him by his nickname. As for his age, Petty is 43 as of this writing, and his date of birth is reportedly listed as April 7, 1978.
His History with Assault
Petty has some checkered history with cases of physical assault. He served four-and-a-half years after pleading guilty to first-degree attempted rape of a 16-year-old woman in 1995. He allegedly raped the victim at knifepoint when she was at school on Sept. 16, 1994, according to court documents.
The victim, publicly identified as Jennifer Hough, has recently filed a lawsuit in the U.S. District Court for the Eastern District of New York pleading that Minaj and Petty tried to take back her accusations.
According to the lawsuit, Hough was forced to leave New York because of threats she had received. She thought she'd moved on from the matter until Minaj and Petty started calling her to revoke her story.
Petty has been enlisted in the offender registries in New York and California and thus might not be holding any job down as of now.
He Has a Tattoo of Nicki Minaj's Name
Both Petty and Minaj grew up in the same city and are speculated to have dated each other "before Nicki was famous." Us Weekly revealed that "they linked up when she handed out turkeys for Thanksgiving in her hometown."
After their link up in 2018, Petty proved his loyalty to the 'Super Bass' singer when he got himself a large tattoo of her real name, Onika, on his neck in December 2018.  
The rapper captioned the video of the close-up of the tattoo, "Did ya tat hurt zaddy? his first tat—frontin like it didn't sting." 
Kenneth Petty Married His Childhood Sweetheart
Minaj, 38, tied the knot to Petty, 43, on October 21, 2019, after nearly a year of dating. The rapper shared her marital bliss in a video of matching "Mr. and Mrs." mugs and coordinating "Bride" and "Groom" baseball caps. 
 "10•21•19," the rapper captioned the Instagram video, appearing to refer to their official wedding date. 
They Have a Son Together
The rapper and Petty welcomed their first baby together on Wednesday, September 30, 2020, in Los Angeles. Nicki Minaj gives fans a glimpse of her baby boy on Instagram and calls him "Papa Bear."
"#PapaBear thank you so very much for choosing me to be your mama," Minaj wrote of her son. "Becoming a mom is by far the most fulfilling job I've ever taken on. Sending love to all the superhero mothers out there."
The joyous news came nine months after Petty tied the knot with the superstar rapper and 10 months after Minaj announced her intention to retire to focus on her family. The New York native also said she wants to have two kids. Three, if Petty wants them.