Meet Kendrick Perkins' Wife of 12 Years and Four Kids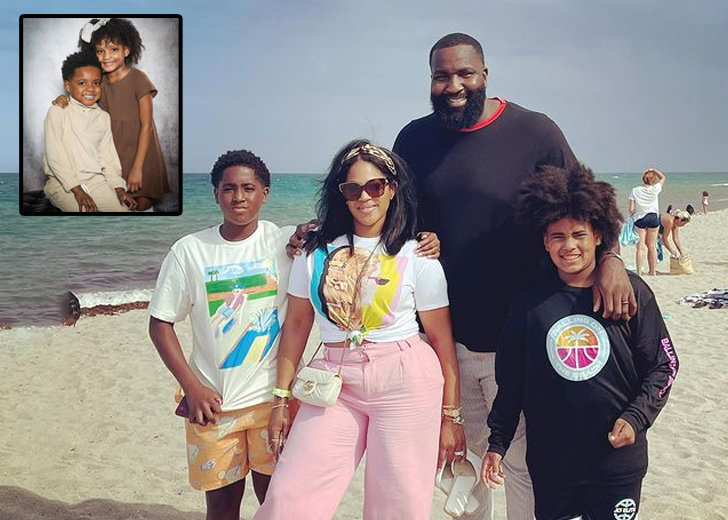 Kendrick Perkins has had a very long and successful career in the NBA. Throughout his journey, he has had hundreds of thousands of fans cheering him on.
And the one who has been supportive of him the most for the past two decades is his wife, Vanity Perkins.
Perkins and his wife met during their high school years. When talking to The Hype Magazine, Vanity revealed she and her husband were conflicted about when they got together. 
"Yes! We were high school sweethearts. He says 10th grade, I say 11th. He seems to have a better memory than me," she added. 
After eight years of dating, Perkins and Vanity tied the knot on July 25, 2009. 
Kendrick Perkins and Wife Have Four Kids
Perkins was signed to the Boston Celtics when he was expecting his first child with his partner. 
The former NBA athlete spoke about balancing his responsibilities as a player and a father in an interview with People in August 2007.
He shared it was "kind of crazy" as it was the time for the toughest training conditioning-wise. Perkins added his son's impending arrival only strengthened him mentally while noting how happy he was.
Still, he understood his job as a player and was fully committed to achieving his and his team's goal for the year.
Months after the interview, he welcomed his first child, son Kendrick Jr., on September 10, 2007.
Perkins' family has since grown larger. He and Vanity are now parents of four kids.
The couple welcomed their second child, son Kenxton Raymond Perkin, in October 2020. For his 9th birthday, Vanity took to Instagram to express how much she loved him.
"They say the middle child gets lost in the sauce… Well not my son! Kenxton Raymond Perkins, Thank you for being so loving and so much fun!" she wrote while further adding the things she appreciated about him.
Vanity gave birth to twins — son Karter and daughter Zoey — on October 20, 2015. The kids have an Instagram account with over one thousand followers.
Kendrick Perkins and Wife Pranked Kids
Perkins, Vanity, and their kids share a close bond. His two oldest sons are following in his footsteps and are heavily invested in basketball.
In the aforementioned interview with The Hype Magazine, Vanity spoke about his son's interest in the sport.
"I feel so proud of him [Kenxton] because he was literally born to be a ball player. He lives it, so I'm embracing it and supporting him," she raved about him. 

Kendrick Perkins with his wife Vanity Perkins and their children. (Photo: Vanity Perkins' Instagram)
Vanity shared that her oldest son had also gotten into basketball. She and her husband had let him decide on whatever he wanted to do, and Kendrick Jr. eventually gravitated towards the game.
In 2020, Perkins told New York Post how he and his wife got back at their kids for racking up $16,000 worth of Fortnite charges on their credit card. 
He revealed he bought an old PlayStation for 30 bucks from a pawnshop and threw it in the pool while hiding the real PlayStation they owned.
Perkins said he left the old PlayStation in the pool for a week, and his children would "literally break down in tears" every time they looked at it.