'Southern Charm's Kathryn Dennis Recounts Her Harrowing First Pregnancy Experience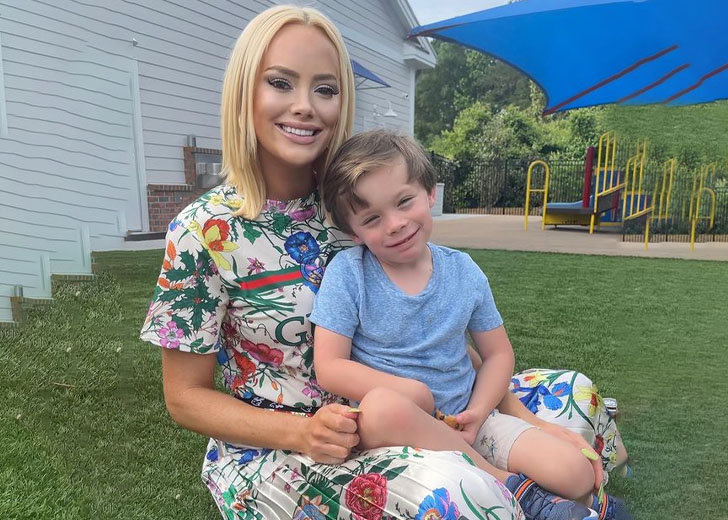 Kathryn Dennis is a mother of two beautiful children, daughter Kensie and son Saint, both with her ex-boyfriend Thomas Ravenel. 
That being said, Kathryn Dennis' experiences with pregnancy and childbirth had been less than ideal—harrowing would be a more fitting word. 
Kathryn Dennis's First Pregnancy
Dennis gave birth to her firstborn daughter back in 2014 but didn't really talk about her pregnancy until much later in 2019. At the time, she opened up to People about how distressful and unnerving her first pregnancy was. 
"I was removed," the reality star told the outlet. Apparently, her then-boyfriend effectively removed her from her life immediately after he found out that she was pregnant. 
Dennis was moved to a different state, away from her friends and family. Not just that, she was forced to keep her pregnancy a secret until the day that she gave birth. 
Kathryn Dennis Cried a Lot as a New Mother
The story about her pregnancy only broke out into the open press after she had given birth. Dennis, who was 22 at the time, told the outlet, 
I received a call in the hospital bed. And then it was, 'Okay, now people know.' It was just very, very odd circumstances.
Even after she had given birth to Kensie, she felt the absence of her partner. She claimed to have felt "sad and scared and lonely and confused and quarantined and isolated."
She was happy having her child in her arms, but Ravenel wasn't there for her, even mentally. 
"I'd cry a lot, it was all new," she added. "I didn't have anyone."
Kathryn Dennis's Second Pregnancy
Even for her second pregnancy, Ravenel wasn't there for his partner.
As per the testimony made by the children's former nanny, Dawn, during a deposition for the custody battle, Ravenel was out partying the night Saint was born. 
Reportedly, Ravenel paid an Uber driver a sum of 500 dollars to wipe cocaine off his clothes and face. The Uber driver was Dawn's friend. 
She further outlined that Ravenel was so intoxicated that he had to be persuaded to clean up before entering the hospital to see his son and baby mama. 
She also shared how Ravenel handed the Uber driver a total of $200 but never got around to giving the remaining $300 he had promised. 
Not just that, she accused Ravenel of sexually assaulting her—a claim that the reality star denied.
The Custody Battle for the Kids
For a while in 2016, Dennis had lost custody of both her children and had to enter rehab when she failed a drug test, testing positive for marijuana. 
Later that same year, the ex-boyfriend managed to win full custody of the kids, but Dennis has since earned back 50/50 custody. 
In October 2019, Dennis submitted the paperwork to obtain primary custody of her kids since Ravenel was arrested and charged with assault and battery in the second degree. 
All of these claims were denied, though. Ravenel, through his lawyer, claimed that his fame had made him a vulnerable target for such claims. 
He claimed to have been appalled and hurt by these allegations and was willing to defend his reputation with the appropriate legal course of action.