You Can't Know Katharine Isabelle without These Basic Facts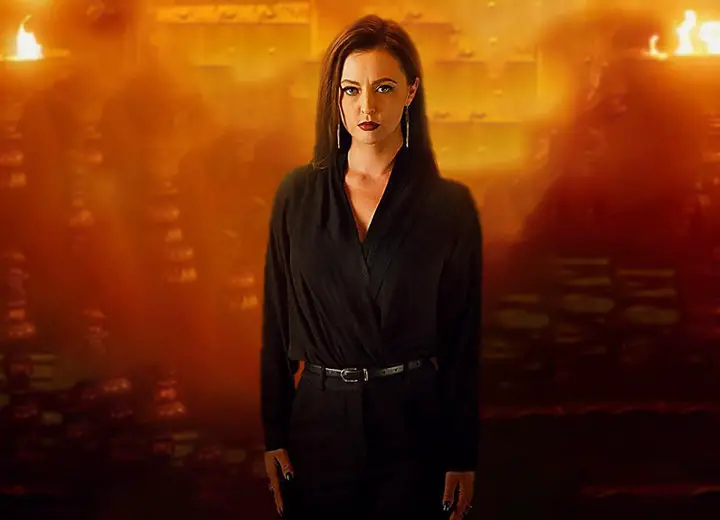 Katharine Isabelle, aka "scream queen," has gained prominence because of her several appearances in horror movies. 
Fans have loved her performances in projects like Ginger Snaps, Bones, Insomnia, Freddy vs. Jason, Josie and the Pussycats, Show Me, and Frankie and Alice. 
However, she has kept mum regarding her dating life and other personal details. So, with some digging, we present the four facts about the actress that fans might want to know.
Katharine Isabelle Celebrates Birthday in November
The actress was born Katharine Isobel Murray in Vancouver, British Columbia, on November 2, 1981. She is 40 years old as of September 2022, and her star sign is Scorpio.
Isabelle was born to her parents Gail Johnson Murray, a writer and producer, and Graeme Murray, a production designer who has won two Emmy Awards for his work on The X-Files. 
For her 38th birthday, she created a Spotify playlist for friends and fans.
Sharing the news via Instagram, she wrote, "No matter what happens tomorrow Dance Yourself Clean I love you thank you for all the bday wishes I do not deserve such glorious friends."
She Is a Dog Lover 
Isabelle's Instagram clarifies that the Insomnia alum is a huge dog lover. She has two pet dogs, Apple and Spaghetti, with whom she posts several pictures on her social media platforms.
The actress also shares many other portraits of other dogs. For instance, in November 2017, Isabelle posted a picture of a dog named Chow, referring to him as her boyfriend.
She believes in adopting pets instead of shopping for them. 
Who Is Katharine Isabelle Dating?
In contrast to her professional career, Isabelle's dating life and relationship are completely private. She has not been associated with anyone, and there are no reports of her having a boyfriend.
As a result, fans have also questioned her about being gay. However, the actress has addressed nothing as of now.
Katharine Isabelle Portrayed a Gay Character on Screen
In 2014, Isabelle joined the cast of the NBC drama series Hannibal Season 2.
She played a gay character, Margot Verger, a potential love interest for Will Graham, played by Hugh Dancy.

Katharine Isabelle in February 2021. (Source: Katharine Isabelle/Instagram)
Margot is a twin sister of Mason Verger, the heir of the Verger Meat Packing Company. She and her brother have a tumultuous relationship in which she even attempted to murder him. 
She even talked about her character in a 2014 interview with Comingsoon.
She said, "I think for me, when I was trying to figure out Margot I never felt like I had a lock on the role until I'm there on the day. And I threw down a few different options on the first day to see what the editors end up taking and that informed the rest of going forward."
Isabelle is a great supporter of LGBTIQ+ society.