How Kate Mulgrew Reunited with Daughter Danielle Gaudette after 22-Year Search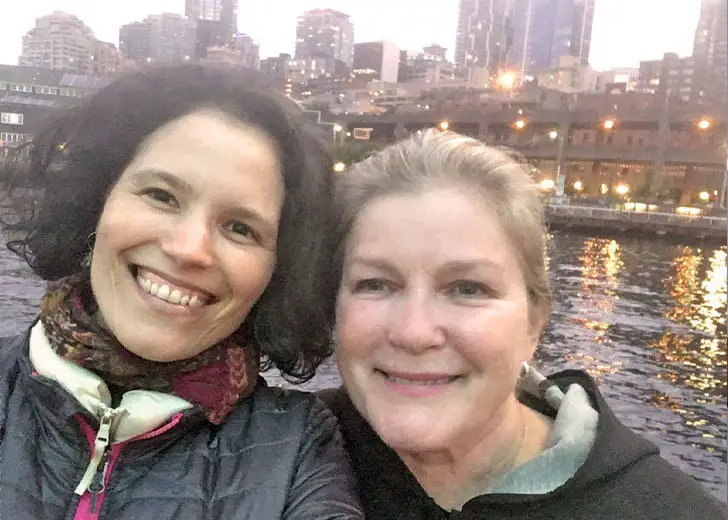 Actress Kate Mulgrew, the mother of her three children, gave daughter Danielle Gaudette up for adoption in 1977.
Years later, when Gaudette was twenty-two, she received a phone call at around eight in the morning from a woman asking if she had seen Star Trek. 
Kate Mulgrew's Reunion with her Daughter
"It's Captain Kathryn Janeway from Star Trek," Gauretta recalled the woman telling her.
A yoga instructor by profession, Gaudette recalled the lady saying, "We think we've found a match."
Her world shrunk into a tunnel after hearing what the woman had to say. The news shared over the phone was related to her long-separate mother, Mulgrew.
Gaudette's mother is an Emmy nominated actress known for portraying Captain Kathryn Janeway in the popular series Strek Trek: Voyager. 
Hence, the reference was made to Gaudette while explaining who her mother was.
Later, Gaudetta's mother told her over the phone about her intention of visiting Gaudette in four days.

Source: Kate Mulgrew/Instagram
"I did not eat a morsel for four days. Nervous isn't even the word," Gaudette told People.
They were reunited at the Charles Hotel in Cambridge in 1999. Upon seeing her child, the actress whispered, "I believe I'm your mother."
"Yes, I believe you are," Gaudette recalled saying to her mom.
The reunion then saw them share a drink at a bar. However, as Gaudette puts it, she couldn't feel anything and was "utterly disconnected" from her body.
Gaudette said she was in "a good relationship" and had "a very good connection" with her mom Mulgrew, who wanted to be a part of her daughter's life after their eventual coming together.
"You're the rare one. You were able to forgive," Mulgrew reportedly told her daughter. Her mother was reunited with her Gaudette in 2001.
In her memoir Born with Teeth, Mulgrew had detailed her twenty-two-year search for her daughter she once gave up for adoption.
Kate Mulgrew's Adoption Story
During her exclusive interview with NPR in 2015, the actress opened up about the time she put Gaudette for adoption.
In Mulgrew's words, she was twenty-two-year-old when she found out about her pregnancy.
At the time, she was busy working on the popular soap opera Ryan's Hope, as the character Meg Ryan, the series lead.
The actress recalled calling her mother on the phone to break the news.
Her mom, who was grieving the loss of one of her children, Mulgrew's sister Tess, at the time, told her to give the baby for adoption.
In her recollection, the actress said her mother called her pregnancy "a big mistake,' and asked her to "fix it."
Mulgrew's mother suggested she find a "wonderful social worker" who would help her with the process.
"You will do the brave thing and you will give up this baby," Mulgrew was told by her mom.
Later during one of her interviews, Mulgrew called her adoption story "God's will," and said she "wouldn't trade the experience," or repeat it.
At present, Mulgrew is happily married and has three children, including her two sons from her marriage and Gaudette, who she initially gave up.