Is Julianne Hough Back to Dating? Meet Her Potential Boyfriend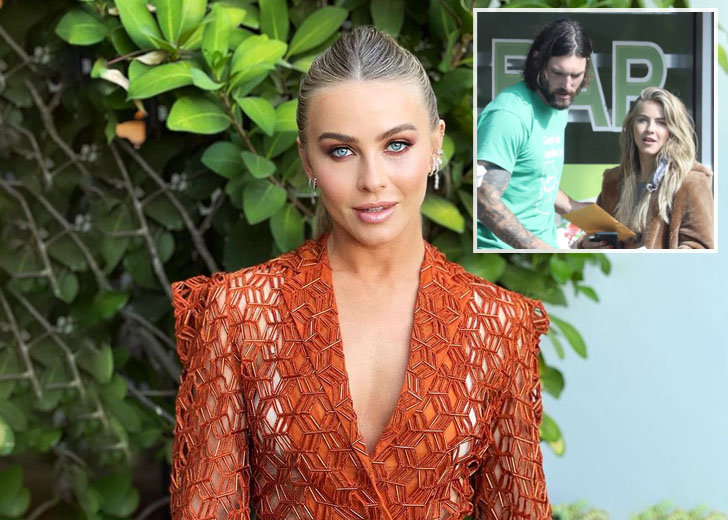 Julianne Hough might be already back in the dating game.
The multi-hyphenate was spotted sharing a passionate smooch with her potential boyfriend, Charlie Wilson, on the afternoon of November 19, 2020. 
Page Six reported Hough greeted Wilson with a big kiss and a hug outside a restaurant in Los Angeles.
After the warm encounter, the duo went inside the eatery and headed outside with some green juices and a brown bag of food in hand. 
Both of them were casually clothed. The Dancing with the Stars participant rocked a crop top, gray sweatpants, and accentuated her look with a fuzzy brown jacket and fuzzy white slippers.
As for her potential boyfriend, Wilson wore a bright green T-shirt and rust-colored trousers and paired them with white sneakers. 
Moments after her steamy meeting with Wilson made it to the internet, her loyal fans and followers wondered who her new potential partner was.
About Julianne Hough's Reported Boyfriend
Hough's rumored boyfriend is a professional model signed under Ursula Wiedmann Models. The 6'3" tall Wilson has reportedly walked the runway for designers like Joseph Abboud and Ralph Lauren. 
He was born in Spain but has been living in the United States. He is also fond of tattoos and inked many designs on his body. 
Interestingly, Wilson is reportedly a father of two kids. According to In Touch Weekly, Hough knows about his fatherhood and allegedly likes that he is a caring dad. 
The insider for the entertainment website also confirmed they had been dating, and they understood each other's quirkiness, although they hadn't been together for long. 
Reportedly, they met through Kingry, Hough's program combining meditation, dance-based movements, and breathwork.
The source even added they Facetimed a lot despite their busy schedules.
"They can't get enough of each other," the source mentioned. 
Despite the detailed claims of her new dating status, Hough hasn't yet commented on her personal life.
She has also posted nothing regarding her new boyfriend on her socials. 
Ergo, the news of their relationship should be taken with a grain of salt unless the 33-year-old or Wilson confirms their dating status. 
Julianne Hough's Dating Rumors Amid Divorce
Months before her dating speculation with Wilson spurred, Hough was romantically linked with Ben Barnes.  
The rumors of their relationship started after they appeared publicly in April 2020.
They were recognized spending time together during a quarantine break. 
After that, they were photographed going out for ice cream in Los Angeles in January 2021.
While the duo didn't comment anything on the rumors, a close source to the couple refuted the claims.
"They have been friends for eight years," the source told People, stressing there was nothing more to it. 
The speculations had emerged amid Hough's ongoing divorce with ex-husband Brooks Laich.
She had filed for divorce in November 2020 after three years of marriage.
And the former pair had initially announced their separation in May that year.
"We have lovingly and carefully taken the time we have needed to arrive at our decision to separate," they penned on their joint statement. As of this time of writing, they are yet to be divorced.