Julia Louis-Dreyfus Generally Celebrates Her Sons' Triumphs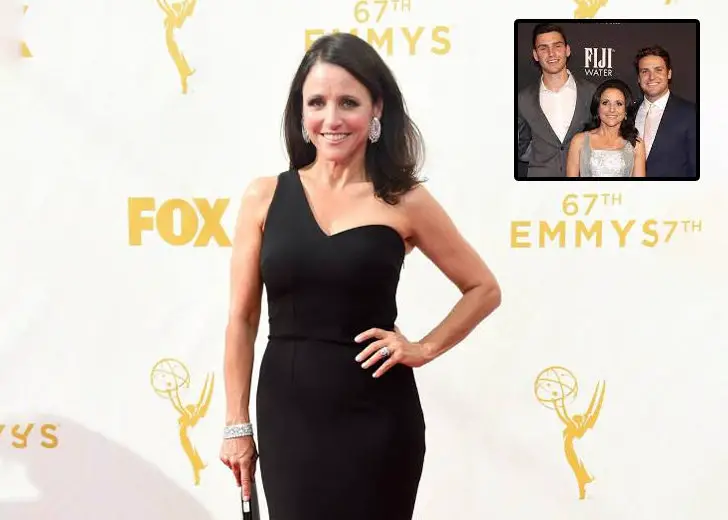 Julia Louis-Dreyfus, an award-winning actress, and producer, shares two kids — both sons — with her longtime husband, Saturday Night Live comedian Brad Hall.
The couple welcomed the first of their sons, Henry Hall, in July 1992 and their second, Charlie Hall, in May 1997.
One of Julia Louis-Dreyfus' Sons Is a Singer-Songwriter
Louis-Dreyfus' elder son, Henry, is a singer and songwriter, who has even performed on The Tonight Show.
He reportedly studied college at Wesleyan University in Connecticut, where he also joined a band called Grand Cousin.
After completing his graduation, Henry subsequently began his career as a solo artist.
In that journey, he released a few music videos along with an EP titled Questions, Comments, Concerns.
In October 2020, he also released his first-ever album, Neato.
"I feel immeasurably grateful to everyone who was involved in the making of this record and I really mean everyone," Henry wrote on social media while announcing his album.
He added, "I couldn't have done it without all of you who were willing to take this Neato ride with me. For those of you who are hearing Neato for the first time, I hope this album can find a place in your heart."
Second Son Charlie Hall Is into Acting
While Louis-Dreyfus and her husband Hall's first child chose music, their second kid, Charlie, decided to follow in his mother's footsteps.
Yes, he is currently pursuing a career in acting and comedy.
Charlie even made a guest appearance in HBO's political satire comedy television series Veep, in which his mother plays the protagonist Selina Meyer, in 2019.
At the time, he and Louis-Dreyfus appeared on Late Night With Seth Meyers, and the proud mother gushed about her child.

Julia Louis-Dreyfus and her son Charlie Hall pose with Seth Meyers in 2019. (Photo: Instagram)
She said her kid did an "absolutely fantastic" job before sharing it was the series' showrunner Dave Mandel's idea to star the young actor in the HBO hit.
"There was this role of an inappropriately young boyfriend to a record executive who's in his 50s, and Dave said, 'Hey, maybe Charlie can play that part.' And I said, 'Sure, I'll ask him,'" she recalled.
Besides, Charlie and his friend Jack Price co-created his own web series called Sorry, Charlie. He announced the project via YouTube in January 2020.
Speaking of his education, he attended his parents' alma mater Northwestern University, where he was also a part of the basketball team. 
Julia Louis-Dreyfus Celebrates Her Sons
Now, the kids, Henry and Charlie, are grown-ups and doing well in their lives.
Louis-Dreyfus, therefore, does not miss out on praising and celebrating both children's success.
For instance, she was over the moon when her younger child, Charlie, starred in his first-ever movie, Moxie.
She noted an enthusiastic "Yah!!!!!" on Twitter, replying to her elder kid Henry's congratulation post.
"My little man Chucky @charlie_hall23 is in his first ever movie and it's out today!!!" Henry wrote in his tweet.
The actress also highlighted that her kids were her strength and support during her battle with breast cancer —  diagnosed in September 2017. Louis-Dreyfus said that during an appearance on Good Morning America in March 2019.