Just Married: 1st Look at JuJu and Des' Highly Awaited Wedding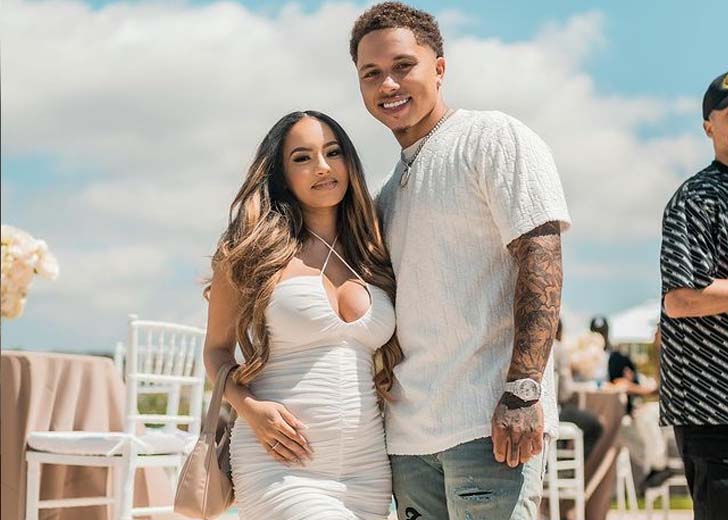 Juju And Des' wedding was every couple's version of paradise.
The social media stars, full name Julius Brown and Destiny Rodriguez, tied the knot on December 15, 2021, in a picturesque wedding setting at their Los Angeles home.
Elegancia Events planned the white and pink-themed ceremony and created an endearing dining setup. 
They also set a modern hexagon wedding arch embellished with white and pink flowers beside the pool, under which the engaged pair took their vows.

Destiny Rodriguez wore a mermaid gown at her wedding, held on December 15, 2021. (Photo: Destiny Rodriguez's Instagram)
The pair cut a three-tiered cake and danced on Daniel Caesar's romantic number, 'Best Part.' And they looked like the perfect couple with their matching wedding dresses. 
JuJu and Des' Wedding Dress
Rodriguez wore a jaw-dropping, strapless white gown with drop sleeves for her big day. She had bought her lace embroidered mermaid gown as the final pick among seven other dresses from Pebbles Bridal, a full-service bridal shop. 
The bride completed her look with a train veil while her partner donned a black tuxedo.
Interestingly, the pair was not the only one dressed for the big day. Their son, Koa Cai Brown, looked more than adorable in his white ensemble, including a sweater, trousers, and a cute beret cap. 

Juju And Des with their baby boy, Kai, on their wedding day. (Photo: Julius Brown's Instagram)
A close group of family members and friends attended the wedding. Among the attendees were fellow YouTuber Nazanin Kavari, internet personality Karla J, blogger Khayman Burton and DJ Mel Wade.
After the celebration, JuJu and Des took to Instagram stories to thank their guests for making the day special, sharing glimpses of the ceremony.
Brown even posted a picture of his wife — carrying the bouquet comprising white and pink roses — and remarked she was flawless. "My Queen!! I love you," he additionally wrote. 
JuJu and Des Had Postponed Wedding Date
While JuJu and Des married on December 15, it was not their original plan. Instead, the pair had planned to tie the knot on December 13.  
They had announced the date to their family members, fitted their dresses, and even had their party planner fixed for the day. 
But just days before the set date, the courthouse called them and informed them they had applied for the marriage certificate at the wrong location. Because of that, the pair had to postpone their wedding date.
The couple announced the postponement through their YouTube video on December 13, 2021. 
"Today is the day that me and Destiny were supposed to officially be Mr. and Mrs. Brown. But unfortunately, it's no longer happening today," Brown stated in the clip. 
He elaborated they had to go to Santa Barbara for the marriage registry and had received the certificate.
Despite the delay, the couple shared they were pleased to take a step in their relationship, from being just regular boyfriend and girlfriend to spouses.
They even recounted their journey together, from being friends to having a family with their baby boy. And Brown noted it was really "beautiful to know that we kind of manifested everything." 
JuJu and Des' marriage happened three years after they started dating, in early 2018. They got engaged on April 9, 2021, and gave birth to the baby boy on September 4, 2021.