Joseline Hernandez Defends Balistic Beats While Calling Him 'Husband' — Are They Married for Real?
Joseline Hernandez and Balistic Beats went Instagram official in April 2019.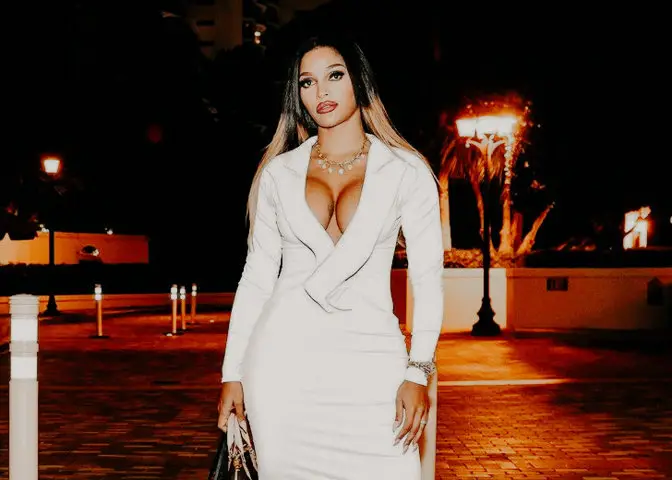 Joseline Hernandez recently defended her longtime partner Balistic Beats, whom she calls her "husband."
The Puerto Rican television personality was forced to do so after many viewers criticized Beats for appearing on Joseline's Cabaret Atlanta reunion show.
The viewers trolled him for turning up on some of the other cast members and getting hyped on stage.
"Balistic honestly shouldn't have been on set of the reunion, ANYWAY. He's a whole MAN. It's inevitable that the stage will get heated. If Joseline wanted security beside her, she should've arranged that," a fan wrote on Twitter.
After hundreds of similar trolling online, Hernandez asked people to stop calling out her partner and applauded the relationship they share.
YALL STAY OUT OF MY HUSBAND PAGE WITH THE BULLSHIT. WE STAND BEHIND EACH OTHER 100% A LOT OF YOU DONT SHARE THAT TYPE OF BOND WITH YOUR SIGNIFICANT OTHER. BUT US -WE ARE 4 TIRES ,10 TOES,SHOCK AND AWE,YING AND YANG. YOU ALL WILL NOT UNDERSTAND. DUMMIES — Joseline Hernandez (@MsJoseline) August 2, 2021
Showing support for the Love & Hip Hop: Atlanta star, a Twitter fan wrote, "Girl keep shining like a diamond! You and him are too cute together not to mention successfully made! Simple [expletive] wouldn't understand!"
But Who Is Balistic Beats?
Hernandez's lover Beats, whose real name is Robin Ingouma, is a musician, music producer, reality TV star, and entrepreneur. He also advertises himself as being in the Grammy society on his Instagram bio.
A quick scroll through his social media further reveals that he regularly performs in musical events around Miami.
According to Atlanta Black Star, he has worked with singer Tamar Braxton and fellow producer Prince Charles.
Currently based in Miami, Beats is originally from Philadelphia. He often travels to his hometown to see his mother. For instance, on August 25, 2019, he and Hernandez visited his mother.
Hernandez, who has over 4 million followers on Instagram, took to her social media to share a heartwarming moment from the visit, posting a candid snap of herself with her lover and his mother.
Hernandez and Beats' Relationship Timeline
According to Atlanta Black Star, Hernandez and Beats have been dating each other since April 2019.
The reality star went public with their relationship by posting an Instagram video on April 7 that year. In the video, she kissed him while the caption read, "He knows I love him."
Later, he also shared a picture of the 34-year-old on his Instagram, adding the hashtags, "#wcw #puertoricanprincess #shetreatmelikeaking #live #love."
The couple did not disclose how long they were together before revealing their relationship.
However, since the day they went public with their relationship, they have been inseparable. In fact, she has been calling him "husband," even though they have not gotten married officially.
That being said, Hernandez and Beats got engaged in April 2020. The music producer went on his knees in the season finale of Marriage Boot Camp: Hip Hop Edition.
Hernandez Is a Mother
The reality TV star is the mother of a 4-year-old daughter, Bonnie Bella, who finished her Pre-K earlier this year.
Hernandez had her daughter with record producer Stevie J, following their long on-and-off relationship.
After the split, Hernandez got full custody of her daughter, and her ex-boyfriend reportedly isn't allowed to see Bella. Despite that, the composer often posts pictures of his daughter on his social media.
Stevie J has five other children with four women and is currently married to American singer Faith Evans.