Jordyn Woods Gets the Queen Treatment from Boyfriend Karl-Anthony Towns All the Time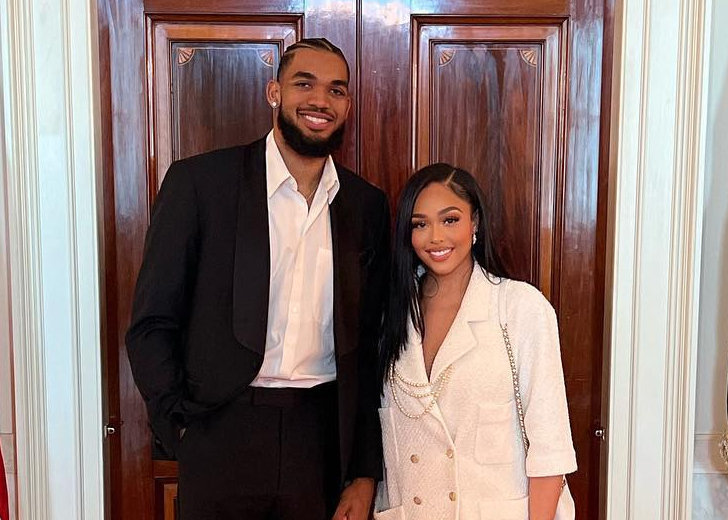 Jordyn Woods and her boyfriend, Karl-Anthony Towns, are one of the hottest couples in town right now. The model and the NBA star athlete make a great pair, and their Instagram is the proof of it.
Towns and Woods have been together for just over two years and a couple of things stand out about them. The way they bonded over pain could be one, and their being friends for years before becoming romantically involved could be another.
However, one thing that stands out on their Instagram is how they treat each other. Or, more accurately, how Towns treats Woods like the queen she is.
Jordyn Woods's Boyfriend Spares No Expense for Her
For a prime example of how well Towns treats his girlfriend, we need to look no further than their 2nd anniversary celebration. The couple celebrated their second anniversary on May 21, 2022.
Towns had planned a big itinerary. He first showered her with lavish gifts, like a striped dress from Bottega Veneta, heels by Gianvito Rossi, and a Chanel handbag.
Wearing those, she headed to their favorite restaurant, Nobu Malibu, for a romantic lunch. But the show had just begun.
After this, Towns, without telling Woods, took her to San Ysidro Ranch in Santa Barbara. Upon reaching there, she got a few more gifts from Versace's Fendi collaboration, Fendace, a few more Chanel and Gucci pieces, and a pro photographer to click pictures with.
She documented all these on her Instagram and TikTok, and wrote, "best anniversary weeekend," on her post on May 21.
"I love you @karltowns," she added towards the end of her writing. "You make me feel like a queen and always remind me everyday."

Jordyn Woods and her boyfriend, Karl-Anthony Towns, at their 2nd anniversary celebration at the San Ysidro Ranch in Santa Barbara, California. (Photo: Instagram)
This wasn't, however, a one-off treatment. She is used to getting spoiled by Towns, which it seems like he enjoys a lot.
They regularly go for sushi dates, Vegas trips, and spontaneous trips to Disney World and similar places, mostly on his private jet.
Woods also received a Porsche Taycan as a Christmas gift in 2021, and a lot of regular, smaller gifts to go with the holiday theme.
However, treating someone like a queen isn't all about material and money. It's also about trust and praise. The NBA star knows this well.
In March 2021, rumors suggested Towns had cheated on Woods. A few doctored screenshots started circulating, which suggested he had been texting another woman behind her back in December 2020.
However, he was in no mood to entertain anything of that nature. So, he took to Twitter to clarify things and praise Woods in the process.
"So, I got the baddest girl in the game and you think I'm gonna waste my energy with anyone else," he wrote. "GTFOH! Same haters we got now are gonna be the same ones we have when I put that ring on her finger."
Engagement rumors started after the tweet, but they are yet to get engaged.
Jordyn Woods and Karl-Anthony Towns' Relationship
Woods and Towns's relationship started with a friendship. The two met through mutual friends, developed a friendship, and became best friends after a while.
They even thought of each other as brother and sister at one point.
Everything remained platonic until the pandemic arrived. Towns lost his mother, Jacqueline Cruz, among the eight family members he lost to COVID.
Woods understood his pain, as she, too, lost her father to cancer in 2017.
"Naturally, we both connected about losing a parent at a very young age," she told Extra in September 2020. The situation forced them to rethink their relationship.
"it kind of forced us to either pick where our relationship was going to go as friends or something more. And we chose the latter," Towns said during an episode of Woods's IG series, Regular-ish, in September 2021.
Developing a romantic connection became easier for the couple, as they were best friends and knew everything about each other. And when they got into fights, it was their base of friendship and communication that came to the rescue.
And now, they're already adding new members to their family. The pair recently adopted a little puppy they found on their coffee run one morning.