Jonathan Adler and Husband Simon Doonan Broke Gay Stereotypes with Their Wedding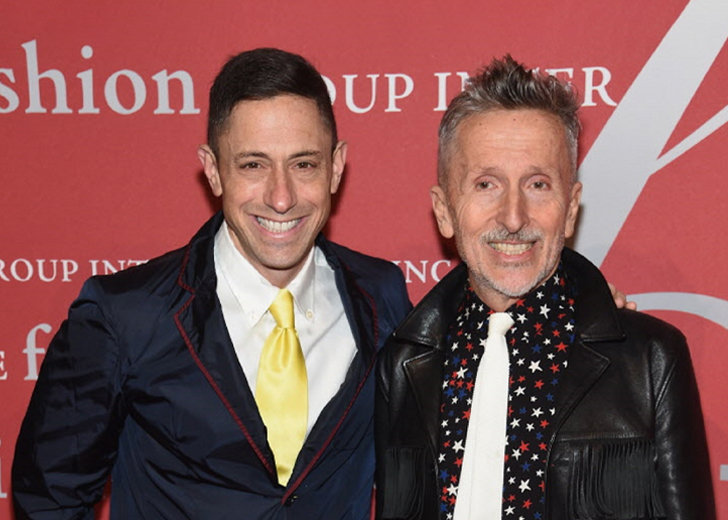 Jonathan Adler and his husband, Simon Doonan, have been together for almost three decades. Their relationship has thrived for all these years because of how much they have in common.
Aside from the fact that they are both crazy about style and have a great passion for creativity, they also had similar ideas about celebrations — everything is up for celebration, but not everything demands a big celebration.
That was the idea that guided their wedding day and has influenced their romance for all these years.
Jonathan Adler and Husband Simon Doonan's Effortless Wedding
When Adler and Doonan went on their first date in 1993, gay marriage wasn't legal in California. So, they had to wait until 2008 to make things official.
Fall of 2008 — gay marriage becomes legal in California. The couple, despite not having any plans to get married, was in San Francisco at the same time in September that year and decided to just get hitched.
"We decide to exchange vows during a weekend splurge at the Post Ranch Inn in Big Sur," Doonan wrote of their spur-of-the-moment decision in his New York Times piece in 2011.
Adler called the inn to book their bridal suite and got an offer to get married by a "local New age pastor" named "Twinkling Stargazer." Finding it amusing, they accepted the offer at the moment but had second thoughts later.
So, they backtracked and instead got married in San Francisco, treating Big Sur as a honeymoon. On September 18, 2008, they got married at the City Hall.
Only Adler's mother, Cynthia, and his sister, Amy, attended the wedding. After they visited City Hall, they took a few pit stops on their way to their Jewish wedding ceremony. The unplanned itinerary had a few places — Adler's retail stores on Filmore and Sacramento streets and lunch at a local eatery.
Their wedding was held in their hotel room, and a gay-friendly rabbi named Howard Steiermann officiated the ceremony. A cake followed, as did some photo-taking.
For their wedding dresses, they wore "what [they] had on" — Adler wrote a "cobalt blue V-neck sweater with a Lacoste shirt underneath," and Doonan had a "battered velvet Thom Browne jacket with a safety-pinned lining."
A few more retail shop visits ensued after the ceremony, and they were surprised that everyone was surprised at how they spent their special day. To end the day, they went to a friend, Alice Waters's restaurant.
Waters showering the party of four with a free meal was the only wedding gift the couple received. They called it an early night, and that's how their wedding day ended.
Even though it was a lot of roaming around, it was only later that Doonan realized how great their wedding had been.
"It was only later, when people asked us, "How was your wedding?" that I realized just how effortlessly delightful and romantic it had been," he wrote. "A bigger, more considered blow-out would have caused both of us to switch into work mode."
Even though unplanned, Adler and Doonan got the inspiration for their wedding from Doonan's parents. They, too, had gotten married similarly, only eight weeks after meeting each other, right at the end of World War II.
Not only did they pay homage to them with their wedding, they also broke the stereotype that gay men have to have big, extravagant weddings.
"Our close professional ties to the worlds of fashion, design and décor render us synonymous with any kind of big, fat sequined extravaganza," he wrote in his piece. "Many of us gay men, and in particular Jonathan Adler and myself, have only ourselves to blame for this type of deranged stereotyping."
How Jonathan Adler and Simon Doonan Hit It Off
The couple did not hit it off immediately. It did not even look like they had anything in common on their first date.

An old picture of Jonathan Adler with husband, Simon Doonan. (Photo: Simon Doonan/Instagram)
Set up on a blind date by a mutual friend, they showed up with distinct senses on what to wear on a first date. Adler wore a trench coat with clay on it and had rollerblades on to complete his look. Doonan was dressed impeccably in a suit.
As Adler recalled during their interview with Yahoo! in 2018, he found Doonan "disengaged" while Doonan said it was a cultural thing. Nevertheless, they found each other interesting enough to go on a second date.
As time went on, Adler and Doonan found they had a lot more in common than they first realized. They were suckers for style, loved the outdoors, and even had a similar sense of humor.
That and how they had similar ideas about special moments. "I can't think of any Hallmark moments where we're like, circling glasses of Chardonnay on a mountain top. I think every day is kind of fabulous," Doonan said.
Adler was 28 when they first met; Doonan was 42. The age difference was in no way a hindrance for the couple, who are going strong three decades later.