JoJo Siwa's 'The J Team' Trailer Explores Uniqueness, Style and Sparkle Similar to Her Real Life
"We've all been told we don't fit in before. What if we celebrated everyone being unique?" Siwa questioned in the trailer.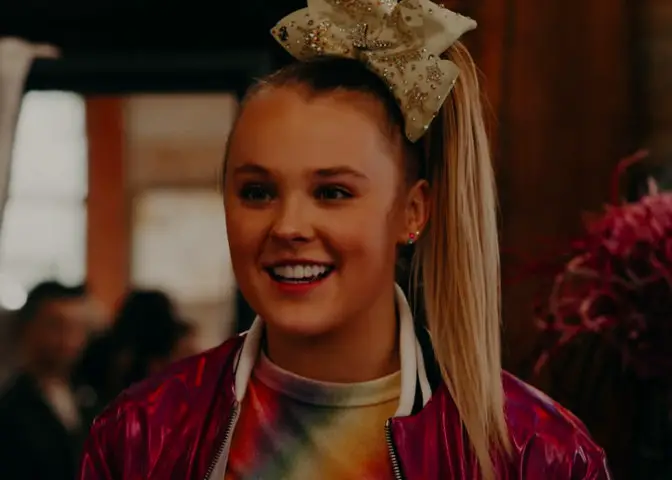 The burgeoning entertainment mogul JoJo Siwa is ready to take over the small screen yet again with her new Nickelodeon movie The J Team streaming on Paramount+ this September. 
The 90-minute musical that features the 18-year-old pop icon as a cast member and an executive producer dropped its official trailer on YouTube recently. 
Siwa Coming Back with 'The J Team'
The new trailer gave fans a peek into the life of a young girl, also named JoJo, who refused to let her sparkle dim even when her beloved dance instructor was replaced by a much harsher coach. 
The new mentor forced the pop star into an impossible situation. She could either set aside her iconic bow and high tops or leave the team that she held so dear. But when she failed to make the cut for the A-Team, she had to reevaluate the meaning of dance in her life. Siwa then asked, 
We've all been told we don't fit in before. What if we celebrated everyone being unique?
When she could not conform to the rules that confined who she was, she joined a new team—The J Team. 
'The J Team' Was Centered on Her Life
During a February 2020 appearance on The Tonight Show With Jimmy Fallon, the multi-talented teenager explained this musical was centered on her life and staying true to who you are. She added, 
Even when the world is telling you, 'It's not gonna happen, it's not gonna happen,' you believing because you're you. That's what this movie's all about.
She also stated that she had originally created 27 songs for the movie but eventually had to narrow it down to six original tracks. Apart from that, the movie would feature two of her older songs. 
For her upcoming release, Siwa will be sharing the screen with Tisha Campbell-Martin, Laura Soltis, Julia Marley, Kerrynton Jones, and Kiara T. Romero.
Siwa's Coming Out on Twitter
While on the subject of being unapologetically oneself, the teenage heartthrob made headlines back in January 2021, for coming out as part of the LGBTQ community.
It all began with Siwa sharing a series of posts on TikTok and Instagram. Following a day with the TikTok collective Pride House LA, the youngster was seen lip-synching to Lady Gaga's 'Born This Way' prompting fans to question if she was coming out. 
She later put up a tweet where she told her fans that her cousin got her a new t-shirt. Alongside the tweet was a photograph of Siwa proudly donning a black t-shirt with bold blue letters reading, "BEST. GAY. COUSIN. EVER."
Addressed Fans via Instagram Live
According to People, she made the announcement via Instagram live where she explained herself in more detail. She declared her love for her girlfriend Kylie Prew and confessed that the announcement was the only thing she hadn't shared with the world. 
All that being said, she acknowledged she did not know what she could "label" herself on the LGBTQ spectrum, while still sounding excited about the possibility of finding out. She added, 
I don't know, bisexual, pansexual, queer, lesbian, gay, straight. I always just say gay because it just kind of covers it or queer because I think the keyword is cool.
However, later in the video, she said that she could technically be called "pansexual" because that was how she had been her whole life. She also spelled out that she never wanted her coming out to be a big deal. 
Apparently, both Siwa and her mother had known about it since she was a little kid. However, both of them felt like it was a risk to go out into the world with full disclosure. 
However, since her coming out Siwa has self-proclaimed the title of "the happiest human alive."