Has Johnny Damon's Second Wife Tied Him Down in Marital Bliss?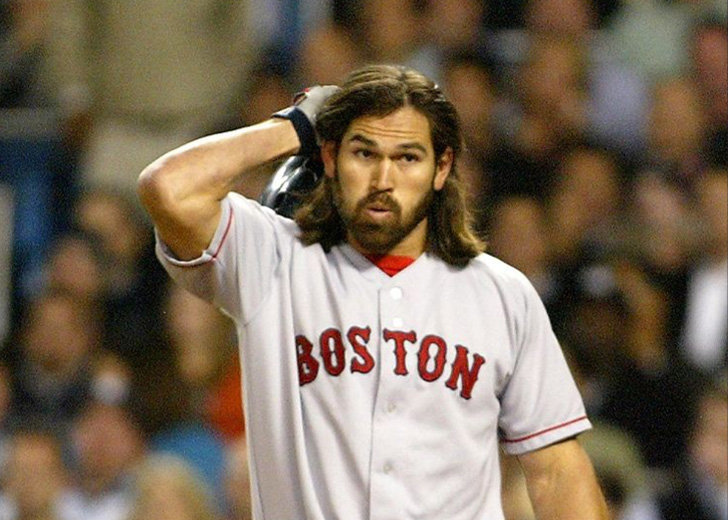 Johnny Damon is a self-proclaimed "wild man." His wild lifestyle was why his relationship with his first wife did not last long.
Damon has since remarried and now has a big family with his second wife, Michelle Mangan-Damon.
The question is, has she made him a more tame, family-oriented person? Or is she joining in on the fun?
Johnny Damon Cheated on First Wife While She Was Pregnant
In 2005, Damon released his all-revelatory autobiography, Idiot: Beating the Curse and Enjoying the Game of Life, where he talked about everything he had gone through in his life. Well, almost everything.
Despite the book containing details on his dating life, promiscuity, and family, it did not contain everything. The most important detail he chose to leave out was about his ex wife, Angie Vannice.
During TV interviews, he always downplayed his deeds, but in the book, Damon confessed to cheating on her on multiple occasions. He even confessed to cheating on her while she was pregnant and in hospital.
"You know, I'm kind of a wild man," he told David Letterman in 2005. "I love to have fun, you know. Well, when my wife went into labor, it was kind of a drag."
His excuse was that the delivery was taking forever, and he could not be still for too long.
So, instead, he ventured outside for some fun and, in the process, hooked up with nine different women within his ex wife's 36-hour labor. All of them were nurses, and one of them was even assisting Vannice in her delivery.
This wasn't a new thing to her, though. Damon admitted he started cheating on her in 1999 — soon after they had their twin children — Maddy and Jacks.
The thing he omitted was about Vannice's demeanor, something she took an issue with when the lies came out. He made her look like an unbearable person who did not let him have fun in life.
Damon said she complained a lot, especially when she was in labor, and called her someone who "had no idea what she was getting into when she became a ballplayer's wife" in his book.
According to him, Vannice did not understand his fun-loving nature, accused him of cheating when he had not, and admitted thinking they married too early.
"I wasn't happy in my marriage, and that's just how I dealt with it," he said. "My ex-wife, she was a nice lady but she wasn't right for me. She was, like, totally obsessed with being a caring mother and doting over our children. Boring!"
"I can't be tied down to being a 'husband' and 'father.' I wanted to live. I wanted to do things like fish, rock climb, wind surf, and commit adultery," he added.
But, his second wife might have changed his view on that.
Johnny Damon's Second Marriage
After Damon and Vannice divorced in 2002, he started dating his second and current wife, Michelle. They married and now have six children together — five daughters, including a set of twins and a son.
They're really into each other and have great chemistry. They are also open about their sex life — so much so that in 2005, right after his first book's release, he promised to write a sequel and confess to the times he cheated on Michelle, too.
While the book hasn't come out yet, they have talked about how they've had their fill with kids now.
Talking about their family life and openness to talking about intimate stuff, Damon told Decider, "That's why we have six kids and I've had two vasectomies. We think we're done."
"I think if I got pregnant after a second vasectomy it would be like, Jesus. So hopefully we're done," Michelle added to that.
Now, they're doing reality shows and having fun together. Drinking and partying is a regular for them, no doubt a good thing for Damon.
However, there is such a thing as too much of a good thing. For the couple, that happened in February 2021.
Damon and Michelle were arrested on a DUI charge on February 19, 2021, in their hometown in Windermere, Florida. Upon testing, he had a 0.30 blood-alcohol level.

Johnny Damon and his wife Michelle Damon, with their children, celebrating 2022 Easter. (Photo: Johnny Damon/Instagram)
The cops described Michelle as being out of control when they were pulled over and combative as well. She even advised Damon against a breathalyzer test.
He spent the night in a holding cell, and while talking to the officers, he repeated his usual "having a good time" catchphrase.
The DUI case lasted for over a month, at which point body-cam footage from their arrest emerged. In the videos, he was seen claiming that he was being targeted for being former president Donald Trump's supporter.
Despite all these troubles, the couple is still together, and he even enjoys parenting his little girls. Maybe Damon is a changed man now.