Inside John Corbett's West Hollywood Condo on Sale
John Corbett might pocket $1,311,600 from the sale of his condo soon.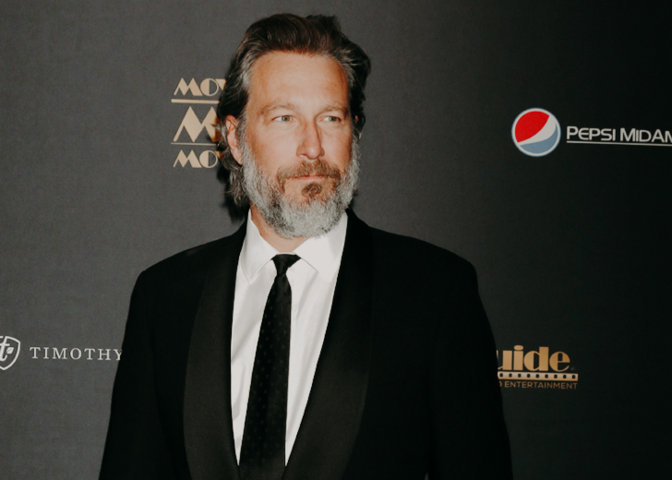 The youth may recognize him as Lara Jean's widowed father in the hit teen franchise To All The Boys. The older generation may know him from Sex and the City, where he played Aidan Shaw, Carrie Bradshaw's one-time fiancé. 
Now, John Corbett is making headlines for listing his chic West Hollywood condo on the market for a cool $1,311,600. It is located on the seventh floor of the luxurious Empire West high-rise building that offers a panoramic 360 view of Los Angeles. 
The 1,607-square-foot condo made for a bachelor is equipped with 1 bedroom with gilded moldings, an en-suite bathroom with dual "His and Hers" sinks, and plenty of space for entertainment. In addition, there is a wet bar for cocktail hour and a compact kitchen that packs a punch with elite appliances. 
According to the listing, held by Justin Alexander of Compass, the condo is filled with "Old Hollywood Glam" from the dark wooden decor and eclectic furniture with "a splash of Vegas poker nights."
The building also offers full VIP amenities with 24 hours valet parking service, a concierge, an updated gym, and private tennis. There is also a brand new rooftop deck with multiple entertaining areas, a new swimming pool, contemporary lounge beds, and a breathtaking view after sunset. 
Within a stone's throw away from the condo, there are the best restaurants, boutiques, and entertainment venues West Hollywood offers. 
Corbett's Net Worth
The actor might have sold his bachelor pad, but he still has another property that he shares with his long-time love Bo Derek. The couple moved into a 10.5-acre ranch in Santa Ynez, California, together a few years ago. 
It appears he can afford to buy another house, considering he is worth $9.5 million, according to Celebrity Net Worth. He earned most of his net worth through his roles in movies such as Flight of the Intruder, The Messengers, and many more. 
His most famous movie, My Big Fat Greek Wedding, earned worldwide box office sales of over $240 million, while the second part of the movie made around $60 million. 
He also starred in television series such as Northern Exposure, Sex and the City, Parenthood, among many other. He has also been a voice actor for animated films.
Before acting, Corbett was in a Samsung commercial, and within the next three years, he had appeared in over 50 commercials. 
Aside from acting, Corbett has since, more seriously, pursued a career in music, releasing two country albums. 
His first album John Corbett was released in 2006 and peaked at no 21 on the Billboard Independent Album charts, and the single 'Good to Go' debuted at no. 48 on the Billboard Hot Country Song charts. 7 years later he released Leaving Nothin' Behind. 
The actor is now gearing up to reprise his role as Bradshaw's ex-fiancé, Shaw, in the highly-anticipated reboot.