Joe Lando's Wife and Children Live a Private Life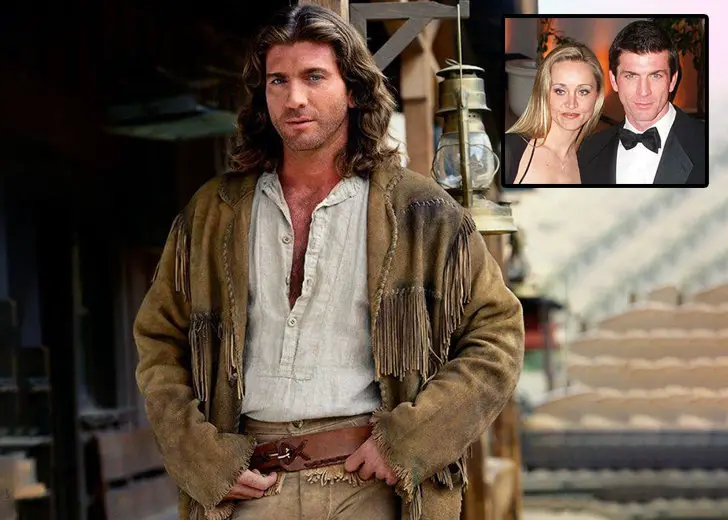 Many couples in the Hollywood industry choose to keep their personal life private.
They are very strict about separating their professional career and family life. Joe Lando is one such actor who has revealed little to no information about his wife and children.
There is very little known about his relationship history since he rarely talks about his family. Here is everything we know about Lando, his wife, kids, and exes.
Joe Lando and Kirsten Barlow Relationship
Joe Lando has been together with his wife, Kirsten Barlow, for a very long time. The couple has kept their relationship out of the spotlight, but it is reported that the two dated for seven years before getting married.
Lando met Barlow before he was an actor in the early 90s. He worked as a pizza chef, and Barlow was a server in the same restaurant.

Joe Lando, with long hair, posing for a picture. (Source: Twitter)
Their friendship eventually turned into a romantic relationship. Since then, the two have been together and never looked back.
After Lando became an actor, the pair made a few red carpet appearances. There were various news reports about how Landon loved spoiling his future wife throughout their relationship.
On one particular Easter, he gave Barlow a car. He surprised her by lining chocolate eggs to their garage door, which had a new Jaguar wrapped in a red bow.
After dating for a couple of years, Lando proposed to Barlow. He allegedly went down on one knee in front of their friends. Luckily for him, Barlow said, "yes."
Dr. Quinn, Medicine Woman actor, was 35 years old, and Barlow was 27 years old when they tied the knot on May 24, 1997. It is reported that they got married in a luxurious hotel in Arizona.
Jane Seymour whipped Dr. Quinn fans into a frenzy when she reunited with her love interest from the show, actor Joe Lando, in a new social media post pic.twitter.com/YisHTiIMRz — Caroline (@Carolin47226771) June 23, 2021
Approximately around a hundred guests were invited, which comprised the couple's close friends and family.
However, the actor did not ask his co-star from Dr. Quinn, Medicine Woman, Jane Seymour, to attend his wedding. This was because Lando and Seymour had a little bad blood. 
Seymour, not being invited, caused Lando to get backlash from his fans and followers. Regardless, Lando and his wife enjoyed their luxurious weddings with the guests.
Joe Lando and His Children
Lando shares four children with his wife. Around a year after their marriage, the pair were blessed with their first son, Jack Neville, in 1998.
Three years later, the couple welcomed their second son, Christian Antonio, in 2001. Their daughter, Kate Elisabeth, was born in 2003.

The actor posing for a picture. (Source: Twitter)
They were blessed with their fourth child and third son, William Joseph, in 2007. Lando is a loving dad to his children. 
He talked about his kids and spouse in a 2010 interview with Chicago Parent. The actor and his family are very outdoorsy people who love to spend time in the woods.
Similarly, they also enjoy going on vacations together. In the late 2000s, the Lando-Barlow family went to Vancouver, where the actor lived for around two years before moving to Los Angeles.
Lando spent time with his children riding bikes and hiking during their vacation. He also took his kids to his old neighborhood and showed them around.
Similarly, the family spent a lot of time on the beach, where they saw a whale. In the same interview, the actor shared he was protective of his children in front of fans and followers. 
He confessed strangers had come up to them when the kids were young. Lando shared he liked his "quiet life" and considered himself fortunate to get the life he wanted.