A Look at Joe Budden's Chaotic Relationship History
Two children and two abuse allegations.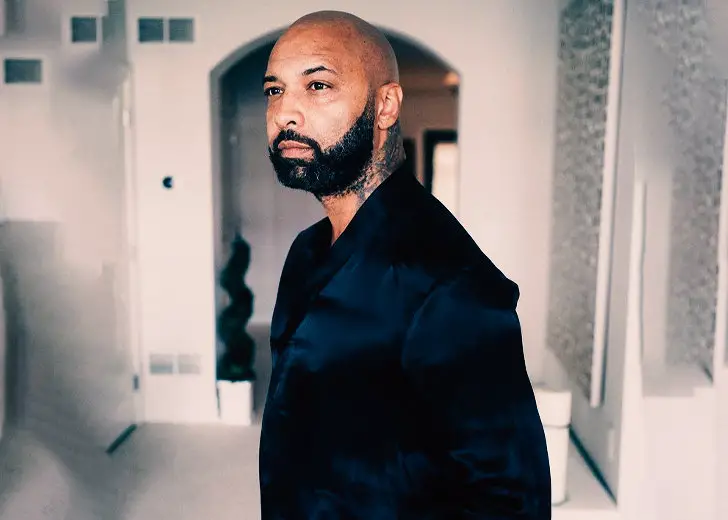 Joseph Anthony Budden II, also known as Joe Budden, is an American media personality and former rapper. With his hit song 'Pump It Up' in 2003, he rose to prominence as a rapper and member of Slaughterhouse, a hip-hop band.
He retired from rap in 2018 after a tremendous 15-year career. He released eight studio albums, six Mixtapes, two collaborative albums with Slaughterhouse, one EP, and many singles. 
He's now a successful broadcaster with a well-publicized stint as a co-host on Complex's Everyday Struggle. Currently, he presents The Joe Budden Podcast on Patreon and YouTube twice a week, as well as State of the Culture on Revolt. 
Unlike his professional career, Budden's love life is full of chaos. Most of his relationships are public and are often showcased on Love & Hip Hop: New York. 
Joe Budden's First Son
Budden was blessed with his first child when he was 20 years old. He welcomed Joseph Budden III (Trey) with his ex-girlfriend Angie on May 11, 2001.
Not much is known about Trey's mom except her name. He appeared in two episodes of Love & Hip Hop: New York Season 9 when his father proposed to Cyn Santana.
Joe Budden and Tahiry Jose
Tahiry Jose was a prominent cast member for Season 3 and 4 of Love & Hip Hop: New York. However, she left the program after the fourth season and didn't return for several years. 
She made a comeback in Season 10 as a supporting cast member. Budden and Jose started dating in 2005. They broke up twice throughout their relationship.
The second time was the final one because Jose denied Budden's marriage proposal. In August 2020, Jose claimed in an interview with Hollywood Unlocked that Budden assaulted her throughout their relationship. 
She accused him of verbal and emotional abuse, which eventually led to physical altercations. According to Jose, Budden hurt her badly, and she was left with a broken nose and a fractured rib. 
Budden refuted Jose's claims in an episode of The Joe Budden Podcast. He said they were false and referred to her as a "cancerous poisonous liar."
Additionally, he accused Jose of being the abusive one and accused her of beating him. He further said that Jose's nose was broken by another man and not him.  
Joe Budden and Kaylin Garcia
Kaylin Garcia, originally from Homestead, Florida, is a Puerto Rican-Thai urban model and video vixen. She began dating Budden in 2012, but their relationship was extremely rocky. 
The pair's relationship was unstable because of the friendship between Budden and Jose. Garcia and the former rapper attended Couples Therapy With Dr. Jenn to talk about their love life. 
Garcia wanted Budden to cut ties with Jose, but he could not do so because of his unresolved feelings towards Jose. As a result, Garcia was extremely broken-hearted, and their relationship could not work out. 
Joe Budden and Cyn Santana
Budden and Santana started dating in 2016 and welcomed their son Lexington on December 15, 2017. A year later, Budden proposed to his girlfriend during a live episode of The Joe Budden Podcast. 
However, their engagement did not last for long as they broke up in 2019 after being engaged for four months. The split was not a mutual decision. Rather, Santana dumped Budden for her mental health. 
In September 2020, a phone conversation leaked on the internet, which shed light on their relationship. The topic of co-parenting their son dominated the discourse, and Budden declared his love for her at one point.
In the recording, Santana stated she does not wish to return to this path. But when Budden pushed her to meet in person, Santana said something shocking. 
She accused the former rapper of trying to chase and drag her by meeting with her. Budden is surprised by the accusation, and he defends himself, saying that he never laid hands on her. 
Santana responded that he was too drunk to remember the altercation. She also accused him of kicking her and Lexington out of his house and not giving her money to care for their son. 
Regardless, the pair seems to be on good terms since Budden often compliments her on his Instagram.
Joe Budden and Shadée Monique
Budden is currently rumored to be dating an Instagram model, Shadée Monique. Allegedly, he was joined by Monique when he celebrated his 39th birthday in Turks & Caicos.