Who Is Joanne Tucker? All about Adam Driver's Wife and Their Extremely Private Personal Life
Adam Driver and his wife Joanne Tucker allegedly have a child together.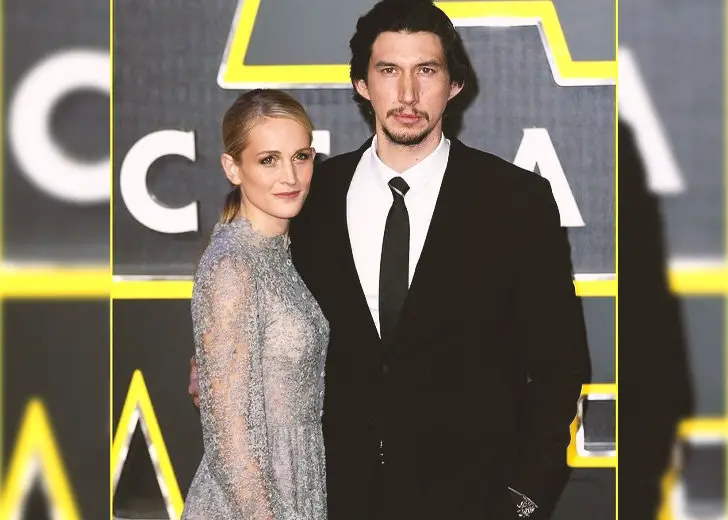 Academy Award nominee Adam Driver has garnered acclaim amongst critics and fans alike for his exceptional acting skills that have won him a staggering 46 accolades. But, as fans of the Marine Corps veteran might have taken note, the actor is often seen on the red carpet with his beautiful wife, Joanne Tucker. 
Despite the actor flaunting his wife on various red carpets, very little is known about their personal lives. Like many others in the industry, Driver is a fan of keeping his love life away from the public eye. Still, after a little digging, here's what we know about the couple thus far.
Adam Driver Met Wife, Joanne Tucker, at Juilliard
Driver enrolled into the University of Indianapolis for a year, after he was medically discharged from the Marine Corps. After his time with the military, the actor had a renewed sense of confidence and hence decided to reapply for Julliard. 
The Star Wars actor spoke of his decision to give Julliard another shot in an interview. He said, 
When you get out of the Marine Corps, you feel like you can do anything. That was part of why I went to re-audition for Juilliard. I thought, 'Worse comes to worst, I know how to live. I'll live in Central Park or something. I'll survive.
Little did he know that his decision would pay off, and he would meet his future wife there. Driver and Tucker graduated from the esteemed institution in 2009. 
Adam Driver and His Wife Joanne Tucker Founded AITAF
After their graduation, Driver and Tucker poured their creative juices into founding and operating an institution called Arts in the Armed Forces, where Tucker still serves as the artistic director. 
The duo has since been facilitating "thought-provoking theatre-based troop entertainment" to an audience they claim wouldn't normally choose to indulge themselves in theatre.
They have done shows across the country, and from what the actor told The Guardian in 2015, they were getting the reactions they'd hoped for. 
They Tied the Knot in 2013
According to sources with Us Weekly, the couple got married over the weekend of June 22, 2013, at a destination wedding. The source further outed that the attendees included the groom's Girls costar Lena Dunham and her boyfriend, Jack Antonoff. 
The source added that the couple was adorable together. They dished, "They've been dating forever, years, and live together; [they're] very comfortable and in love. She was with him before the Girls fame."
The pair also allegedly welcomed a child sometime in 2016. However, the news didn't make it into the mainstream media till 2018, when sources outed to Page 6 that Driver and his wife share a 2-year-old son. 
The outlet also reported that close friends of the actor and his wife knew about the pregnancy from the posts that Tucker made on her private Instagram feed. 
That being said, the actor had blooped about his child during an interview with W magazine in 2017.
"I look at my dog — this sounds so absurd — but it's not — I don't know if I can love anything more," he said, "Like, I have a kid, maybe — and be like, [gestures dismissively]. But the dog!"
While it was still difficult to judge if Driver loved his doggo more than he did his own child, it was fair to assume that the actor, who got married at the age of 29, did, in fact, father a child.