Jill Duggar and Husband Derrick Dillard Reveal Third Baby's Gender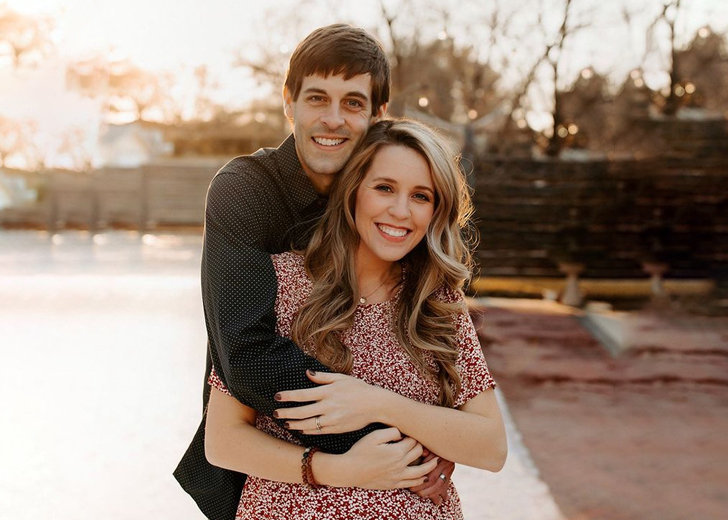 Jill Duggar and her husband, Derick Dillard, just revealed the gender of their fourth child. The reality stars had announced in late February 2022 that they were expecting.
Duggar and Dillard posted a picture of themselves posing while carrying a balloon that read "baby." She held her baby bump with her free left hand and her two sons showed off an onesie that had the words "little" printed on it.
"Ever since we were devastated last fall by the miscarriage of our sweet baby, River Bliss, we have prayed that, if it was God's will, he would bless us with another baby," the pair wrote on the caption.
"We are excited to announce that God has answered our prayers and we are expecting our rainbow baby due July 2022!"

Jill Duggar and Derick Dillard announced they were expecting (Source: Instagram)
Almost a month after revealing they were pregnant, Duggar and her husband finally revealed the gender of their baby on March 23, 2022, through a blog post.
The couple shared they wanted to find out the gender of their baby earlier but had to postpone their plans because Covid hit their family.
"It's a boy!!," the pair wrote on a separate Instagram post to reveal the baby's gender.
Jill Duggar & Derick Dillard Have Two Kids
Duggar and her husband have expressed their excitement about her being pregnant again on multiple Instagram and blog posts.
Two other people who share their excitement are the pair's two sons — Israel (born April 2015) and Samuel (born July 2017).
The pair had previously shared how happy their sons were when learning of their previous pregnancy (which unfortunately ended in miscarriage).
"It was fun to see so much joy in the boys' faces as we shared the news (of Duggar's third pregnancy) with them," they wrote. "They were full of questions and so excited as we talked about the pregnancy and how they would get to be involved along the way and after baby was born."
Miscarriage
Duggar was pregnant back in 2021. Similar to her current pregnancy, she and her husband were excited about welcoming another member of their family.
Though they did not know the gender of their child, they had already decided on a name: River Bliss Dillard.
Unfortunately, they suffered a miscarriage and shared the news in October 2021. There, Duggar and her husband also shared the meaning behind River's name.
"One meaning for River is 'tranquil'... and here in Arkansas, rivers are often a serene, beautiful escape in nature," they wrote. "We also like how the River talked about in the Bible (Rev. 22:1-5) represents God's life-giving presence."
Duggar and her spouse further explained that while their baby did not get to live with them on earth, River would forever be the "source of the river of life."
As for how his middle name was chosen to be Bliss, Duggar and Dillard explained it was because River brought immense joy and happiness to them, despite being with them for a short time.
Aside from that, it was also because they saw it as River living in perfect bliss with the Lord after their miscarriage.