Jessa Duggar Welcomes Baby Seewald Number 4
"We think we have a first name, we're struggling with the middle name, we have about five or six different options, so we'll see," said Jessa.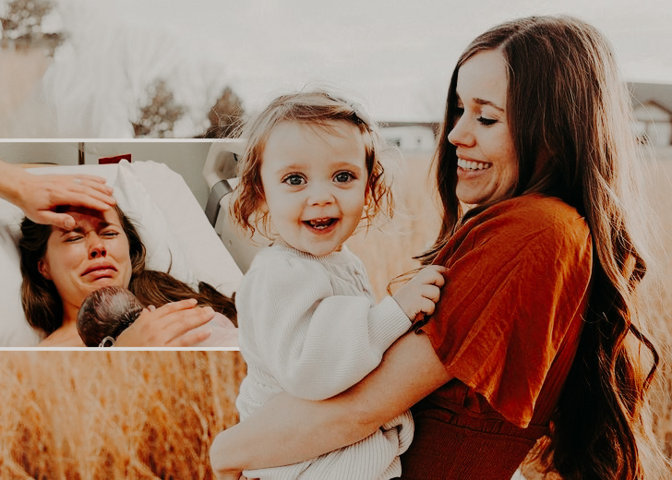 The Duggar family welcomed its newest member!
Jessa Duggar Seewald and her husband Ben Seewald announced the arrival of their fourth child together on Monday, July 19, 2021, over an Instagram post. The reality stars have yet to reveal if it's a boy or a girl. 
Jessa Made the Announcement
The announcement came with a beautiful picture of the new mother holding her baby, possibly for the first time, while she lay in her hospital bed. 
Jessa was visibly overwhelmed. Her face was contorted, and tears ran down her cheeks. The picture framed Ben's hand, as he reached out to gently place his hand on her forehead. 
Through the captions, the new mother directed fans and well-wishers to a YouTube video she'd put up to record the birth story of her little angel.
Albeit, she only had the first part of the two-part series uploaded. She assured fans part two was coming soon. 
Preparing for the Baby's Arrival
The video log began with the reality star on Tuesday, July 13, at 7:51 pm, telling the camera that she had been having a lot of contractions recently. However, the contractions were not necessarily "super painful or anything." She was simply experiencing a dull ache. 
Jessa also took viewers across the room to show that she had both her birth bag and her children's bags packed in case the baby decided to come early and her three elder kids had to go to their grandmother's place. 
The mother of four, who shares sons Spurgeon, 5, and Henry, 4, and daughter Ivy, 2 with Ben, explained that her due date was still three days away and acknowledged that it was a bit early to pack bags.  
Still, considering her first two babies missed their due date by five days and she was a week and a half early with Ivy, she simply couldn't be sure. Better safe than sorry!
Seewald Siblings Expected a Baby Brother
Later on in the video, Jessa asked her older three kids if they were expecting a baby brother or a baby sister. Spurgeon and Henry both said that it would be a boy. Spurgeon also encouraged his sister to side with him.
Apparently, Henry already had a name thought out for his baby brother: Runk. 
Jessa revealed they had been sitting on the baby's gender for "months and months," but still hadn't gotten around to finding a name for their newborn.
She suggested the process was harder than it seemed. She added, 
We think we have a first name, we're struggling with the middle name, we have about five or six different options, so we'll see.
'Ready to have this baby!'
Another entry in the log came at 3:15 am on Sunday, July 18, where she explained she had been having contractions about every ten minutes for the last few hours, and couldn't sleep because of it. 
On a scale of one to ten, Jessa placed her contractions at around eight. But given that they were still spaced out, she figured that she still had some time left. 
Later that same day, at 3:26 pm, Jessa and her husband were seen walking through the halls of a hospital, and the contractions were three minutes apart at that point. 
"Ready to have this baby!" she wrote as the two entered an elevator, the video closed, and the screen read "to be continued."