Jeremy Jordan and Wife Ashley Spencer — From Facebook to Falling in Love
"[She] walks up to me, taps me on the shoulder, I turn around and look up, and I'm like, OH! You're outta my league," Jordan recalled.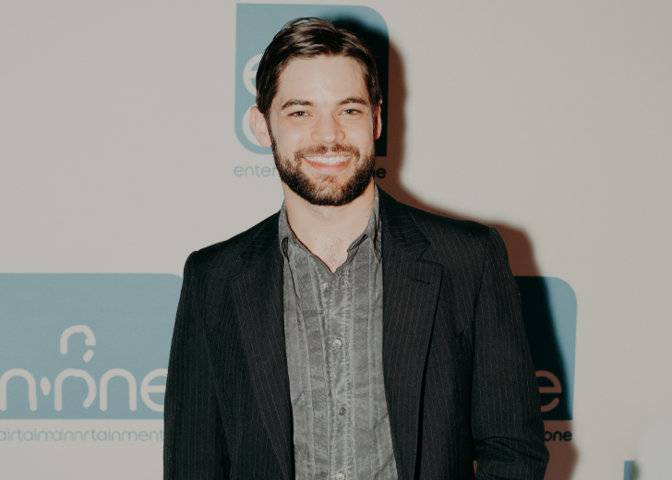 Jeremy Jordan celebrated eight years of marital bliss with his beautiful wife Ashley Spencer with a stunning slideshow of photographs on his Instagram. 
The lens brought the then-newly married couple in focus, putting the background in a haze of bokeh. They appeared to be lost in their dance, gazing into one another's eyes, steady in one another's embrace — a visual fitting for a romantic movie climax.
Taking a look at their 11-year long relationship, the wedding dance reminiscent of a Hallmark movie only feels right. 
Jordan on How He Met His Wife
In an interview with Southern Living, the Supergirl actor recalled how he first met the love of his life on a Broadway show called Rock of Ages, eleven years prior. 
Apparently, he had a small part in the theatre production, and Spencer was auditioning to replace one of the lead roles. Since it had been a long-running show, it was common for the production to go through actors. 
Spencer was going through videos of the show with one of the cast members to get a sense of what the show was like. Coincidentally, she came across a clip of Jordan singing something from the show. 
The cast member with whom she was watching the video suggested that Spencer meet "this guy," and she agreed.
Jordan recalled, "[Spencer] was like oh, okay … just sort of a, yeah right, that's not a real thing that happens."
As it turns out, she actually reached out to him on Facebook. Keep in mind, this was a time when there was no Twitter, and one couldn't just slide into anyone's DMs as they do on Instagram today. 
They Began Chatting on Facebook
Spencer messaged Jordan to tell him that they had a mutual friend and explained she was auditioning for a part in the play. Spencer wanted Jordan to give her a few pointers and tips regarding the audition. And that was how they first made contact. 
Of course, Jordan gave her all the help she requested, and they continued to have a friendly correspondence for a few months. At the time, Jordan was in a relationship with someone whose name he chose to keep to himself. 
The outlet reported that the relationship was not very serious, and he just wanted to see if it went anywhere. Spoiler! It didn't. He explained, 
It didn't work with the other person and we [him and Spencer] just met up one night and we've been together ever since.
'OH! You're outta my league.'
Jordan also confessed that he was not sure if the relationship with Spencer would work. Before delving into their first encounter, a side note: Jordan and Spencer are about the same height. 
On the first day he met his future wife, one of the first things he noted was, that in his memory, Spencer was wearing 6-inch heels. He continued, 
[She] walks up to me, taps me on the shoulder, I turn around and look up and I'm like, OH! You're outta my league.
Despite his apparent lack of confidence in himself, the couple has been together for eleven happy years, out of which they have been man and wife for eight. The couple also welcomed an adorable baby daughter named Clara Eloise Jordan, six years into their marriage.