Jennifer Carpenter Reportedly Reprising Her Role in 'Dexter'
Carpenter's character Debra is returning to our screens, but in what capacity?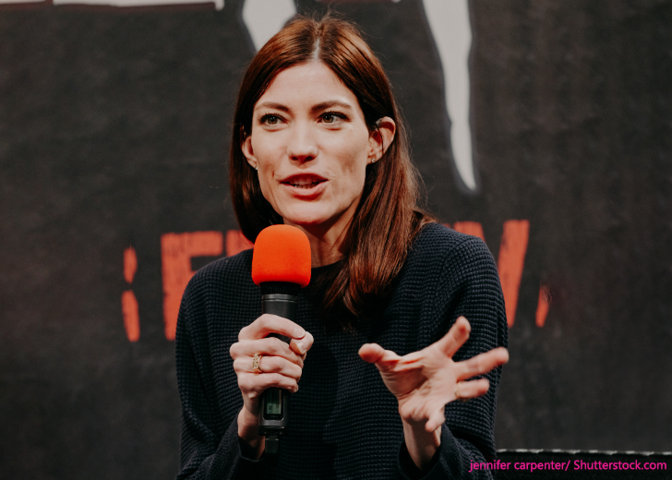 Ever since Showtime announced the revival of its most popular series Dexter, fans have obsessively been attempting to piece together the cast list.
Jennifer Carpenter's appearance was unlikely given that her character, Debra Morgan, who is Dexter's sister, was killed off in the series finale in 2013.
At the time, Carpenter told the Hollywood Reporter, it would take "an extraordinary script many, many, many years from now" for her to consider returning to the show.
Eight years have passed since, and despite any official announcement, we are all but certain Carpenter will be featured in the series revival. 
Clues that Give it Away
Fans began to suspect Carpenter might feature in the series after John Lithgow, who plays the Trinity Killer, announced his return to the show.
Lithgow's character was killed off in season 4 of the show but will continue to haunt Dexter in the form of flashbacks.
Speaking to Deadline, he explained that the series was "a re-imagination" that took place in "a different part of the country" with "a whole new cast of characters."
He also expressed that it was "wonderful to rejoin that gang — including Michael C Hall and Jennifer Carpenter and Clyde Phillips."
While fans may have been hoping for more than a set of flashbacks, they will nonetheless still be intrigued to see how characters from Dexter's past blend into his current situation.
In an interview with US Weekly, showrunner Clyde Philips explained,
We're not undoing anything. We're not doing movie magic. We're not going to betray the audience and say, 'Whoops, that was all a dream! What happened in the first eight years happened in the first eight years. This is now, however many years later.
The showrunner also revealed that the show would start in the winter in Upstate New York, with Dexter living under an assumed name.
Carpenter previously shared a teaser of the show, which reveals Dexter out in the woods in a chilly cabin, smiling through the glass at his tied-up victim. 
While Carpenter is yet to comment about her appearance, her recent Instagram activity suggests she is working with the crew and cast members of the show. 
She recently followed Sanford Bookstaver and Marcos Siega, the directors of season nine, on Instagram, as well as writer Scott Reynolds, and actress Julia Jones, who will play Angela Bishop. 
Earlier in February, Carpenter was also spotted running at deCordova Sculpture Park and Museum in Lincoln, Massachusetts where Dexter was being filmed at the time. 
Background on Dexter and Debra
Michael C. Hall first met Carpenter when they began filming Dexter in 2006. Although the actors play the role of siblings in the show, they developed a close relationship behind the screen.
They started as good friends but secretly began dating a year and a half into the show. A few months later, on New Years' Eve 2008, the stars announced that they were married. 
Though they only stayed married for two years, Carpenter helped Hall through his battle with Hodgkin's lymphoma.
Neither actor stated a clear reason for their divorce, but both of them maintained that the show "is and always has been paramount." They worked through their differences and saw out the final three seasons of the show.
Executive producer Sara Colleton noted that despite their divorce, Hall and Carpenter's chemistry was not affected.
She remarked, "They're so tight as friends still, that sometimes it's a shock when I remember that they were married."
While their friendship has stood the test of time, fans will be more interested in seeing them back together, working on set.