Jason Tartick and Kaitlyn Bristowe Revealed the Theme of Their Upcoming Wedding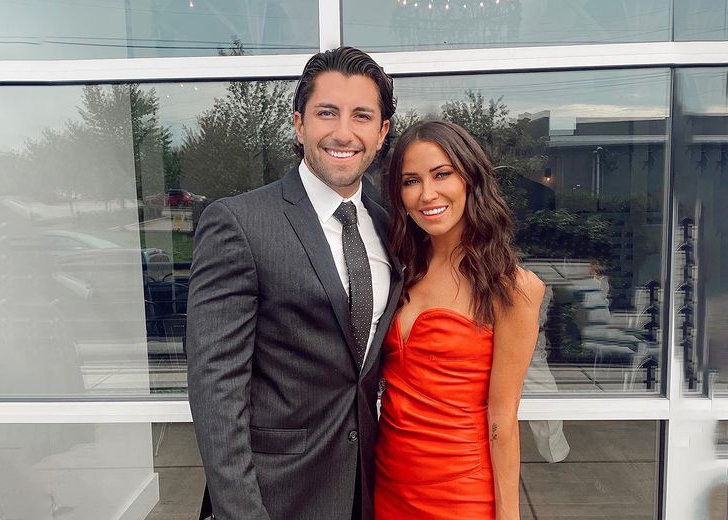 Ever since Jason Tartick and Kaitlyn Bristowe got engaged in May 2021, all they can think of is about their wedding.
Well, that might be a bit of an over-exaggeration. But a fantastic nuptial is definitely one of their concerns.
They have been revealing more and more details about their plans for the special day. Here's a rundown on everything they have said about the ceremony.
Jason Tartick and Kaitlyn Bristowe's Wedding Details
Tartick and Bristowe have decided on a few major things for their big day.
While talking to Entertainment Tonight in January 2022, they revealed the tentative date for their wedding. It will happen in October 2022, although an exact date is yet to be decided.
They also planned to get married in Nashville, the same state where they got engaged.
Another thing that was on their mind was the theme of the wedding. And Tartick had his mind set on one even before they decided October was the time for their nuptials.
"I think we're going to go, I think the look of it, very Great Gatsby," Tartick told People in October 2021.
The couple had most of the essentials already locked in. They knew where to do it, and he said that the "foundation is being built for the wedding."
Bristowe always wanted a small ceremony. However, it was her former corporate banker fiance who convinced her they should go big with the occasion.
But they also have been talking to a wedding planner. That's mainly because she was going to be busy with her work with Dancing With The Stars and wouldn't be able to oversee every little detail.
Realizing she was not picky about things, she talked her partner into locking down a planner and letting them handle things.
"I'll let the wedding planner, as long as I trust them, do their thing, so hopefully that will make it easier," Bristowe told Entertainment Tonight.
Tartick hoped that the wedding would have the same energy as his fiancee's podcast. He told People he wanted the occasion to have an "Off The Vine live tour energy." Off The Vine is Bristowe's podcast.
Jason Tartick and Kaitlyn Bristowe's Relationship
Tartick wanting the nuptials to be so closely related to the podcast makes sense, considering how they first came across one another. It was on Off The Vine that they first met each other.
Their relationship started as a goofy friendship, but they soon realized they were meant to be more than friends. They started dating in January 2019.
And them deciding October to be the month they will get married also seems right, as it was on October 23 that they met each other.
In May 2019, they moved in together to Nashville. And in May 2021, they got engaged. Tartick proposed to Bristowe on the podcast, tricking her into thinking they were to do a podcast with a special guest.

Jason Tartick and Kaitlyn Bristowe after getting engaged in May 2021. (Photo: Kaitlyn Bristowe/Instagram)
The engagement ring was a 5.09-carat oval-shaped sparkler with a rock on the top. It had been designed keeping in mind everything Bristowe liked and wore in the past.
Bristowe expected Tartick's proposal to be something extravagant, but she was pleasantly surprised when it happened the way it did.
And getting engaged on their podcast was the cherry on top for her.