Jason Isaacs' Wife Emma Stuck with Him through Years of Drug Addiction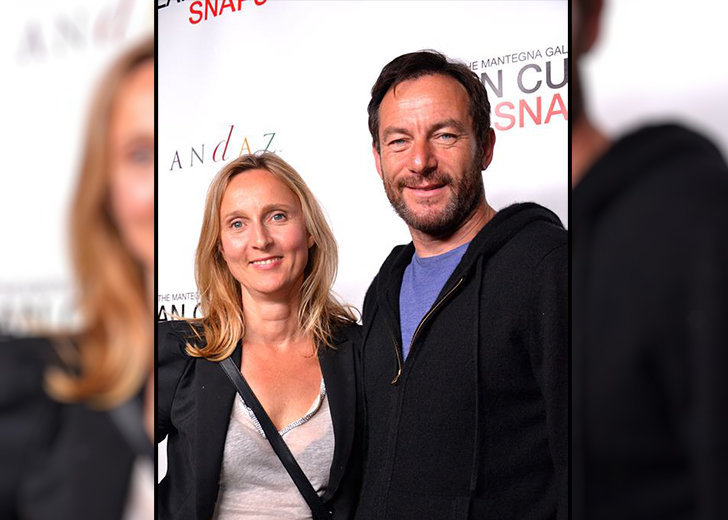 Jason Isaacs is 23 years sober now. He started his sobriety in 1998 and has been going strong ever since.
It wasn't a sole accomplishment, though. His wife, Emma Hewitt, played a big part in his well-being and who he is today.
That is something Isaacs has admitted to repeatedly and appreciates her presence often.
Jason Isaacs' Wife Stuck by His Side
Isaacs started drinking when he was 12. His first time getting drunk wasn't a pleasant experience — he drank with his 14-year-old friend at a wedding, threw up, kissed a girl, tripped, fell, and "smashed [his] head open on the pavement," getting blood all over his clothes.
However, despite the horror, he found something enticing about the experience. So, he went back to doing it.
He did so for 20 more years but finally stopped.

Jason Isaacs with his wife Emma Hewitt in September 1998. (Photo: Jason Isaacs/Instagram)
Isaacs met his wife at the Central School of Speech and Drama and started living together in 1987. He brought her along for the ride as he struggled with drug addiction.
When he finally embraced sobriety in its entirety — on October 5, 1998 — he had been with his partner for over ten years. She stayed alongside him as he navigated his life, usually out of his head.
When he got sober, Hewitt asked him if they could then get a house, kids, and get on with their lives. Isaacs was surprised she still wanted to be together.
"I've just met you. What are you talking about?" Isaacs told Hewitt. He felt like he had just been born, and he wanted to get to know her again.
"[We have to] see if we get on. If we like each other. You've never known me straight." he said to her. And even though he thought that would be the end of their relationship, Hewitt agreed.
After this, he asked her why. In response, his spouse told him she "always knew" him. She loved who he really was and who he could become in the future.
Inside Jason Isaacs and Wife's Marriage
Isaacs and Hewitt's relationship first took off with a kiss, which he described as the best kiss of his life.
"33 years ago today on Halloween, behind a Venetian blind, to the horror and bemusement of all of our friends, this girl kissed me." wrote the Harry Potter actor about the kiss in his Halloween post in 2020.
He could not believe why she still did and talked about how they worked things out through thick and thin.
His Wikipedia notes they got married in 2001. However, he suggested otherwise in 2014.
Isaacs and Hewitt called themselves husband and wife even before they got married. In an interview from 2004, the actor said that they were not married but called themselves husband and wife because they did not want people to get peculiar.
Nevertheless, he had proposed, and she had accepted. But every time they planned a wedding, he got a job, and it got postponed.
The couple has two children - daughters Lily (born in 2002) and Ruby (born in 2005).
In the same 2004 interview, Isaacs admitted he wished he had had children earlier. He considered starting a family the best thing he had done "by far" and said fatherhood had changed him for the better.